Introduction
In the realm of personal growth, a harmonious relationship is a vital cornerstone for prosperity and happiness. This article, "Abundance in Relationship: Prospering in Unity," delves into the significance of synergy and unity in relationships, and how this can lead to an abundance of love, understanding, and growth. Through exploration of this topic, we aim to provide insights that will guide you in nurturing prosperous relationships, and creating a life that is not just rich in material aspects, but also in love, peace, and connectedness.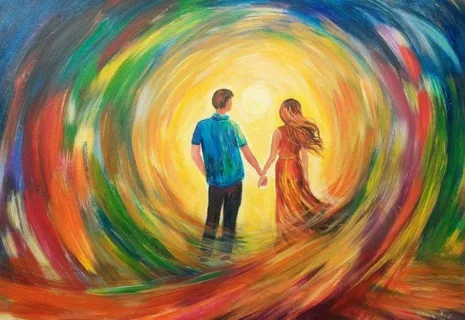 Abundance in Relationship
Abundance in a relationship goes beyond the surface, it is about richness in connection, openness, and understanding. It is a bond that is grounded in mutual respect, trust, and emotional safety, where each party feels heard, valued, and loved.
The Role of Communication
Communication plays a pivotal role in establishing and maintaining abundance in relationships. Effective communication fosters understanding, resolves conflicts, and strengthens individual bonds. It is through open and honest communication that we express our needs, feelings, and expectations in the relationship.
Trust and Respect as Cornerstones
Trust and respect serve as the cornerstones of an abundant relationship. Trust is the foundation that allows the relationship to withstand the test of time and challenges, while respect ensures that each person values and honors the other's individuality and freedom.
The Power of Emotional Intelligence
Emotional intelligence is the ability to understand, use, and manage our own emotions in positive ways to relieve stress, communicate effectively, empathize with others, overcome challenges, and defuse conflict. This quality significantly contributes to the depth and richness of a relationship, leading to an environment of emotional safety, empathy, and mutual understanding.
Abundance in Romantic Relationships
Love and connection form the bedrock of an abundant romantic relationship. It is essential to nurture these aspects continually. Love is the emotional connection that underpins the relationship, while connection is the ability to relate with and understand your partner on deeper levels.
Fostering Intimacy and Vulnerability
Intimacy and vulnerability are catalysts for deepening the emotional bond in a romantic relationship. Being intimate extends beyond the physical; it involves revealing your authentic self, your fears, dreams, and insecurities to your partner. It invites vulnerability, an act of courage that breeds trust and fosters a safe space for both partners to be their authentic selves.
Conflict Resolution and Growth
Conflict is inevitable in any relationship. However, in an abundant relationship, conflicts serve as opportunities for growth and deeper understanding. Effective conflict resolution strategies, such as active listening, empathy, and compromise, not only resolve disputes but also strengthen the relationship's fabric.
The Impact of Abundance on Romance
Abundance impacts romance by infusing it with depth, authenticity, and resilience. An abundant romantic relationship is marked by mutual respect, emotional safety, and a shared vision. It thrives on the richness of connection, open communication, and the willingness to navigate together through life's complexities. It's a romance that isn't fleeting or superficial, but one that deepens and evolves.
Abundance in Familial Relationships
Abundance plays a pivotal role in shaping familial relationships, fostering deep connections rooted in love, understanding, and shared experiences.
The Dynamics of Family Relationships
Family relationships are dynamic and multifaceted, shaped by various factors such as generational influences, individual personalities, and shared experiences. The concept of abundance in these relationships looks beyond the mere act of coexisting and delves into the idea of thriving together, creating a familial environment that promotes growth, understanding, and mutual respect.
Communication and Understanding
Open, honest communication forms the foundation of an abundant familial relationship. It encourages understanding, fosters trust and helps navigate conflicts constructively. Regular, meaningful conversations allow family members to express their thoughts and feelings, thereby promoting mutual understanding and deepening the emotional bond within the family.
Balancing Independence and Togetherness
An abundant family promotes a healthy balance between individual independence and collective togetherness. While family unity is important, respecting each member's individuality and personal growth is equally crucial. This balance allows for the nurturing of personal ambitions and goals, while simultaneously fostering a sense of belonging and togetherness.
Generational Abundance
The concept of generational abundance revolves around passing on the values of love, respect, and abundance to subsequent generations. Through actions and teachings, each generation imbibes these values and passes them on, creating a cycle of abundance that strengthens the familial bond and shapes the family's legacy. This continuous circulation of positive values leads to robust, resilient, and nurturing family relationships that stand the test of time.
Friendship Abundance
Friendship abundance refers to the richness and depth of the interpersonal relationships we foster outside our family circle. It's not about the quantity, but rather the quality of friendships that contribute to our sense of fulfillment and happiness. These are relationships filled with mutual respect, empathy, and a genuine interest in each other's well-being.
The Role of Shared Interests and Experiences
Shared interests and experiences act as the glue that binds friends together. They provide a common ground for conversations, activities, and shared memories, fostering a deeper understanding and strengthening the bond of friendship. Whether it's a shared hobby, similar career paths, or common life experiences, these factors play a crucial role in building and maintaining abundance in friendships.
Maintaining Abundance in Friendships
Nurturing abundance in friendships requires effort and commitment. It means actively investing time and energy in your friends, being there for them in times of need, celebrating their achievements, and supporting them in their endeavors. It involves cultivating positive communication, showing appreciation, and regularly checking in on each other.
Abundant friendships significantly contribute to our overall well-being. They provide a sense of belonging, reduce stress, and improve self-confidence and self-worth. Studies show that strong social bonds can improve mental health, increase longevity, and lead to a happier, healthier life. Indeed, friendships are a surprising but potent catalyst for abundance.
Abundance in Professional Relationships
Abundance in professional relationships transcends the conventional perception of success determined solely by monetary achievements or hierarchical status. It involves cultivating a workplace environment that encourages growth, collaboration, and mutual respect.
Success in Professional Relationships
Success in professional relationships should be defined by the quality of interpersonal interactions, mutual respect, and the ability to collaborate effectively. It's about creating an environment where everyone feels valued and their contributions acknowledged. Success is achieved when team members are motivated, engaged, and committed to a shared vision.
Collaboration and Teamwork
Collaboration and teamwork lie at the heart of abundant professional relationships. When colleagues support and learn from each other, they drive innovation and improve problem-solving capabilities. Effective collaboration involves open communication, respect for diverse perspectives, and a shared commitment toward common goals.
Mentorship and Networking
Mentorship and networking are essential components of professional abundance. Mentorships provide avenues for knowledge sharing, skill development, and career advancement, while networking opens doors to new opportunities and collaborations. Both contribute to personal and professional development, fostering an environment of continuous learning and growth.
Conflict Resolution and Growth in the Workplace
Conflict is inevitable in any professional setting. However, it's the approach to conflict resolution that can either stagnate or foster growth in the workplace. Effective conflict resolution strategies involve active listening, empathy, and finding mutually beneficial solutions. Such an approach isn't just about resolving disagreements, but about learning from them to prevent future conflicts and promote a growth-oriented environment.
FAQs
What is the concept of abundance in relationships?
Abundance in relationships is the art of cultivating deep and meaningful connections with others. It's about fostering mutual respect, and collaboration, and valuing everyone's contributions. It celebrates the power of teamwork, mentorship, and resolving conflicts to create a thriving sense of unity. Together, we can unlock the true potential of our relationships and embrace a world of limitless possibilities.
How does collaboration and teamwork contribute to abundance in relationships?
Collaboration and teamwork play a vital role in cultivating professional relationships. They enable colleagues to provide mutual support and foster continuous learning, driving innovation and enhancing problem-solving abilities. Such collaborative endeavors contribute to a shared commitment to common goals, thus creating an environment conducive to abundance.
How do mentorship and networking aid in professional development?
Mentorship opens doors for sharing knowledge, honing skills, and advancing careers. Networking, on the other hand, unlocks new opportunities and collaborations. Both are vital for professional growth, cultivating an environment of ongoing learning and development.
Conclusion
Creating an atmosphere of abundance in relationships, particularly in a professional setting, is crucial for overall growth and prosperity. This approach, emphasizing mutual respect, collaboration, teamwork, mentorship, and conflict resolution, fosters a climate that encourages innovation, learning, and achievement. It transforms workplaces into thriving communities where everyone's contributions are valued, and shared goals are pursued together. Through this lens of abundance, relationships evolve into powerful alliances that drive both individual and collective success. Let's build strong and supportive connections that uplift us all!