Introduction
Astrology, the ancient art of deciphering the movements and relative positions of celestial bodies, has held a significant role in human culture for millennia. It presents a symbolic language that offers insights into our character, personal patterns, and the core facets of our lives. It's particularly known for its twelve zodiac signs, each representing different energy patterns and tendencies.
Among these signs, the Aries in astrology sign takes the lead. As the first sign in the zodiac wheel, Aries symbolizes the beginning and, in many ways, reflects the raw energy of life itself. Enthusiastic, determined, and competitive, individuals born under this sign are often noted for their spirited and pioneering nature.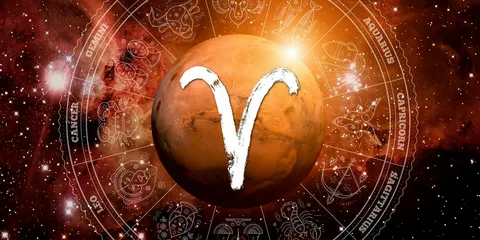 Aries in Astrology
Aries in astrology is one of the twelve signs of the zodiac system—an ancient astrological framework that associates each sign with distinct personality traits, life events, and symbolic meanings based on the celestial movements. This system comprises twelve signs, each corresponding to a 30-degree segment of the ecliptic path that the Sun appears to follow over a year.
Aries is the first sign of the zodiac and spans the celestial longitude from 0° to 30°. Traditionally, this sign is associated with the period from March 21 to April 19 in the tropical zodiac. As the inaugural sign, Aries holds a significant place in astrology. It ushers in the zodiac new year and symbolizes fresh beginnings and the burst of energy that spring brings. Known for their courage, independence, and competitive nature, those under the Aries sign are believed to embody the raw, untamed energy of life, serving as pioneers and trailblazers in various aspects of life.
Historical and Cultural Significance
Historically, Aries has played a significant role in various cultures due to its association with courage, leadership, and new beginnings. In ancient Greek mythology, Aries represents the Golden Ram, a revered creature symbolizing authority and dynamism. The Romans, too, associated Aries with Mars, their god of war, further emphasizing the sign's attributes of courage and boldness.
Culturally, Aries' influence can be seen in numerous Eastern and Western societies. In Chinese culture, for instance, the traits associated with Aries—such as initiative, bravery, and leadership—are highly valued, aligning with the societal ideals of progress and development. In the Western world, the "Arian" traits of independence and pioneering spirit are often associated with entrepreneurial success, thereby cementing Aries' cultural significance.
Aries Personality Traits
Individuals associated with Aries in astrology are often characterized by the following key traits:
Energetic and Dynamic Nature: Aries individuals are often characterized by a seemingly inexhaustible supply of energy. This dynamism makes them natural trendsetters and trailblazers, always ready to embark on new ventures and seize initiative.
Independence and Leadership Qualities: Aries-born people value their independence highly, and this trait often manifests itself in strong leadership capabilities. They prefer to lead rather than follow and have a knack for inspiring those around them.
Impulsivity and a Pioneering Spirit: Aries individuals are known for their impulsivity. This not only underscores their pioneering spirit but also makes them quick decision-makers. They are always eager to be the first to dive into new experiences and adventures.
Competitive and Adventurous Spirit: Aries individuals are competitive by nature. They thrive on challenges and are not afraid to take risks. This adventurous spirit drives them to explore new frontiers and push their boundaries.
Honesty and Straightforwardness: People born under the Aries sign are typically honest, direct, and straightforward. They value truth and transparency in their interactions and aren't afraid to speak their minds.
These characteristics influence the behavior and interactions of Aries individuals in various ways. Their energy and dynamism make them compelling and engaging, while their independence and leadership qualities often put them in positions of authority. The impulsivity and pioneering spirit of Aries individuals can make them appear reckless to some, but it's this same trait that makes them such innovative and forward-thinking individuals. Their competitive nature can make them relentless in their pursuits, but it's their honesty and straightforwardness that often earn them respect and admiration from their peers.
Aries and Relationships
Aries's individuals, with their dynamic and energetic nature, typically bring vibrancy and excitement to their relationships. Their honesty and direct communication style often foster an environment of trust, although their impulsivity can sometimes lead to misunderstandings. As natural leaders, Aries individuals can sometimes come across as domineering in their relationships. However, they also have a deeply ingrained sense of fairness and are often the first to encourage their partners to pursue their ambitions and dreams.
Aries in Love
In the realm of love, Aries individuals are passionate, adventurous, and direct. They are not ones to beat around the bush and typically make their romantic intentions known early on. Their passionate nature often translates into highly romantic gestures, and their adventurous spirit brings dynamism and excitement into their romantic relationships. They are known for their loyalty but demand the same in return. An Aries in love is a force to be reckoned with, embodying passion, intensity, and a lust for life.
Compatibility with Other Zodiac Signs
In terms of compatibility, Aries individuals often mesh well with fellow fire signs, Leo and Sagittarius, due to their shared energy and enthusiasm for life. Gemini and Aquarius also make good matches for Aries, thanks to their shared love for adventure and independence. However, Aries may face challenges when paired with more reserved or sensitive signs such as Cancer or Pisces, as their directness and impulsivity can sometimes cause friction.
Challenges in Aries Relationships
As in any relationship, Aries individuals face their share of challenges. Their impulsivity and quick decision-making can sometimes lead to hasty actions without considering the feelings of others, potentially causing misunderstandings. Their competitive nature might turn into a power struggle in the relationship. And although Aries individuals are typically straightforward and honest, their blunt communication style may sometimes be perceived as tactless or insensitive. However, these challenges can be overcome with understanding, patience, and open communication.
Career and Ambitions
The traits of Aries individuals often translate into a dynamic and engaging presence in the professional sphere. Their energetic and dynamic nature makes them enthusiastic team members, while their independence and leadership qualities often steer them toward roles where they can take charge and make decisions. Their pioneering spirit and quick decision-making abilities make them natural problem-solvers, capable of thinking on their feet and innovating under pressure. Furthermore, their competitive nature drives them to set high goals, and they consistently push themselves to achieve and often surpass these. Their honesty and straightforwardness can make them highly valued for their integrity in business dealings.
Ideal Professions for Aries
Given their personality traits, Aries individuals often excel in certain career paths:
Entrepreneurship: The independence, leadership skills, and pioneering spirit of Aries make them ideal candidates for entrepreneurship. They enjoy the challenge of starting their ventures and driving them towards success.
Project Management: With their knack for leadership and problem-solving, Aries individuals often excel in project management roles, navigating teams through challenges and towards their goals effectively.
Sales and Marketing: The competitive nature, energy, and dynamism of Aries individuals make them excellent in sales and marketing roles, where they can leverage these characteristics to drive growth and success.
Public Relations: Aries' honesty, direct communication style, and energetic nature often make them well-suited for roles in public relations, where building and maintaining relationships is key.
Adventure Sports: Given their adventurous and risk-taking nature, Aries individuals may also find success and satisfaction in careers involving adventure sports or outdoor exploration.
FAQs
What are the key characteristics of aries individuals?
Aries individuals are renowned for their vibrant energy, unwavering independence, genuine honesty, and trailblazing spirit. They frequently assume leadership roles, spearhead innovation, and fearlessly embrace taking risks, all while prioritizing truthfulness and transparency in their interactions.
How do aries individuals behave in relationships?
Aries individuals bring a dynamic and vibrant energy to relationships, creating an atmosphere of trust through their unwavering honesty. Their passion, adventurous spirit, and directness shine in romantic connections, making them known for their unwavering loyalty.
Who are aries individuals most compatible with?
Aries individuals find great compatibility with Leo, Sagittarius, Gemini, and Aquarius. However, they may encounter challenges when paired with signs that are more reserved or sensitive, like Cancer or Pisces.
Conclusion
Aries folks, born under the first zodiac sign, are all about that vibrant energy and pioneering spirit. They carve their path, rocking independence, honesty, and leadership. People dig their dynamic and no-nonsense nature, both in personal and professional realms. When it comes to relationships, they're all about passion and adventure, bringing excitement while staying loyal. Their natural knack for leading and problem-solving makes them ace in any gig that needs bold decision-making.
Sure, they might have their moments of impulsivity and straightforwardness, which some might see as insensitivity. But hey, Aries peeps are a force to be reckoned with, embodying passion and a serious lust for life. Being the first sign of the zodiac, Aries sets a killer pace for others to follow.