Introduction
Eco-conscious parenting is more than a trend; it's a commitment to raising our children with an awareness and respect for the environment, instilling in them the importance of sustainability. This article will delve into the various aspects of 'green parenting', offering valuable tips and insights to help you nurture your child's connection to nature, reduce your household's environmental impact, and foster a lifelong commitment to sustainability. From choosing eco-friendly products to teaching about waste management and conservation, we'll explore how small changes in our day-to-day lives can make a big difference in preserving our planet for future generations.
Eco-conscious Parenting
Eco-conscious parenting can be defined as a parenting style that prioritizes the health of our planet. It involves making mindful choices that reduce our environmental impact, favor sustainability, and instill these values in our children. Eco-conscious parenting is the practice of raising children with an acute awareness of their environment. It involves making conscious decisions that not only affect your child's upbringing but also have a less damaging impact on the environment. This could mean choosing organic food, opting for cloth diapers, using eco-friendly cleaning products, or teaching children the importance of recycling.
Importance
Today, our planet faces numerous environmental challenges, from climate change to deforestation and biodiversity loss. Eco-conscious parenting can play a crucial role in addressing these issues. By raising our children to be conscious of their environmental impact, we can help cultivate the next generation of environmentally responsible citizens. Furthermore, eco-conscious choices often align with healthier lifestyles, promoting well-being not only for our planet but also for our children.
Impact of Parenting Choices on the Environment
The choices we make as parents have a profound impact on the environment. From the products we buy to the habits we instill in our children, each decision plays a role in shaping the health of our planet. For example, disposable diapers contribute significantly to landfill waste, while conventional baby foods often contain harmful pesticides that can leach into our ecosystems. Even seemingly small decisions, like choosing plastic toys over those made from sustainable materials, can add up over time. By adopting eco-conscious parenting practices, we can begin to reverse these trends, making a positive impact on our environment and setting an example for our children to follow.
Creating a Sustainable Home Environment
Sustainable Practices at Home
Creating an eco-friendly home is one of the most significant steps towards eco-conscious parenting. This does not merely involve purchasing environmentally friendly products but also adopting practices that reduce waste and conserve resources.
Implement Eco-friendly Practices at Home
Adopting sustainable practices at home can start with simple day-to-day habits. Begin by switching to energy-efficient lighting and appliances, conserving water, and monitoring your energy use. Consider investing in renewable energy sources such as solar panels. Encourage your children to turn off lights and appliances when they're not in use. When it comes to shopping, choose products with less packaging, opt for reusable items over disposable ones, and buy food and other items in bulk to reduce packaging waste.
Importance of Reducing Waste
Reducing waste and conserving resources are key elements of an eco-conscious lifestyle. Waste reduction not only keeps unnecessary items out of landfills but also conserves the resources used in product manufacturing. It's also important to teach children about the three Rs of waste management: Reduce, Reuse, and Recycle. Reducing consumption, reusing items, and recycling materials wherever possible are practices that can dramatically lessen our environmental footprint.
Green Living Tips for Families
The switch to renewable energy sources, such as solar, wind, or hydropower, is an effective way to reduce your family's carbon footprint. Solar panels, for instance, can be installed on rooftops or in yards to generate electricity for your home. They not only reduce reliance on fossil fuels but also help save on energy bills. Similarly, purchasing green power from your utility provider is another option. Teaching children about these energy sources can help them understand the importance of renewable energy in combating climate change.
Sustainable Home Design and Decor
Incorporating sustainability into your home design and decor is a tangible way to demonstrate eco-friendly practices to your children. Opt for materials like bamboo or reclaimed wood, which have less environmental impact than traditional options. Consider natural paints and finishes, which are free from harmful chemicals. Use furniture and decor items made from recycled or repurposed materials. Incorporate indoor plants to improve air quality and natural light to enhance energy efficiency. Your choices can both beautify your home and make it more environmentally friendly.
Nourishing the Family with Sustainable Choices
Nourishing your family with sustainable choices is another crucial aspect of eco-conscious parenting. Making mindful choices about what and how we eat can significantly reduce our environmental footprint and improve health.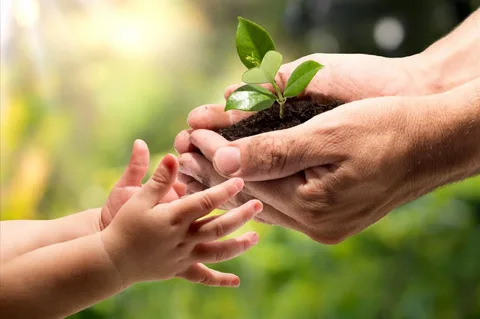 Eco-conscious Meal Planning
Eco-conscious meal planning involves selecting ingredients and planning meals in a way that supports sustainable farming practices and reduces food waste. This could mean opting for organic produce, which is grown without harmful pesticides, or selecting locally sourced foods to cut down on carbon emissions from transportation. It also means planning portions carefully to minimize food waste and using leftovers creatively. Teaching children about the importance of these choices can help them understand the connection between food, health, and the environment.
Gardening and Growing Food at Home
Gardening and growing food at home is another fantastic way to promote sustainability. Not only does this reduce the need for packaged foods and the waste they generate, but it also provides an opportunity to teach children about where food comes from and the work that goes into producing it. Whether you have space for a full vegetable garden or a small herb garden on a windowsill, any form of home-grown produce helps. Plus, the act of nurturing a plant can instill a sense of responsibility and appreciation for nature in young minds.
FAQs
What is eco-conscious parenting?
Eco-conscious parenting is raising children with an emphasis on sustainability and respect for the environment. It involves making choices that are good for the planet, such as using environmentally friendly products and teaching green habits.
How can I make my home more eco-friendly?
Making your home more eco-friendly can start with energy efficiency, such as using LED lights and energy-efficient appliances. You can also conserve water, reduce waste, and buy products with less packaging. Consider investing in renewable energy like solar panels, and teach your children to turn off lights and appliances when they're not in use.
How can I reduce waste at home?
Reducing waste at home can be achieved by following the three Rs: Reduce, Reuse, and Recycle. Buy less, choose reusable items over disposable ones, and recycle as much as possible. When shopping, opt for items with less packaging and buy in bulk to reduce waste.
Conclusion
Eco-conscious parenting is not only about making sustainable lifestyle choices for our families but also about instilling deep respect and concern for the environment in our children. By adopting green practices at home, reducing waste, opting for renewable energy, and making mindful choices in our diet, we can significantly minimize our environmental footprint. Teaching children about these practices can equip them with the knowledge and values they need to become responsible stewards of the planet. As we grow green together, we are planting seeds for a future that is sustainable, healthy, and vibrant for generations to come. Remember, each small step towards sustainability can make a significant impact!