Introduction
Emotional Intelligence, often referred to as EI or EQ (Emotional Quotient), is a crucial aspect of personal development and growth. It is a concept that goes beyond the conventional measurements of intelligence, such as IQ, by considering our ability to understand, manage, and effectively express our feelings, as well as engage and navigate successfully with the emotions of others. In the current society where personal success is not just determined by knowledge but also by the ability to navigate and negotiate effectively in the social environment, mastering emotional intelligence has become more important than ever.
Emotional Intelligence
Emotional Intelligence, at its core, is the capacity to be aware of, control, and express one's emotions, and to handle interpersonal relationships judiciously and empathetically. It is the ability to identify and manage our own emotions, as well as the emotions of others. Emotional Intelligence is generally said to include at least three skills: emotional awareness, or the ability to identify and name one's own emotions; the ability to harness those emotions and apply them to tasks like thinking and problem-solving; and the ability to manage emotions, which includes both regulating one's own emotions when necessary and helping others to do the same.
Importance of Emotional Intelligence in Personal Growth
Emotional Intelligence is a powerful catalyst for personal growth. It nurtures a resilient and flourishing self-concept, shaping self-awareness, self-regulation, and self-motivation. Mastering emotional intelligence skills often unlocks deeper connections, boosts personal effectiveness, and enhances stress management.
Those who embody high emotional intelligence enjoy stronger mental well-being, excel in leadership roles, and achieve remarkable career success. Moreover, emotionally intelligent individuals possess a remarkable ability to discern and navigate their own emotions and those of others. This enables them to foster meaningful social interactions and minimize misunderstandings.
Components of Emotional Intelligence
Self-awareness
Self-awareness stands as the cornerstone of emotional intelligence. It involves the ability to recognize and understand our own emotions, triggers, and responses. Self-aware individuals are capable of identifying their emotional strengths and weaknesses, thus gaining insights into how their feelings can influence their thoughts and actions. They can identify their emotional reactions to specific situations and understand why those emotions arise.
This level of self-understanding allows them to anticipate and manage their responses, leading to greater control over their emotional landscape. This control, in turn, fosters a greater capacity for empathy, better decision-making skills, and improved relationships with others. Self-awareness is the first step towards personal growth, as it creates a foundation for the development of the other components of emotional intelligence.
Self-regulation
Self-regulation, a crucial aspect of emotional intelligence, pertains to our capacity to manage our emotional responses to situations, control our impulses, and exhibit socially acceptable behavior. Individuals with effective self-regulation skills avoid excessive anger or jealousy and refrain from making impulsive or careless decisions. They possess the ability to remain composed, poised, and adaptable in the face of challenges.
This emotional equilibrium enables them to maintain a positive perspective, effectively handle stress, and approach problems with an open mind. Self-regulation, as the second stage of personal growth, builds upon the foundation of self-awareness and empowers individuals to conduct themselves in a manner that fosters both personal and professional development.
Motivation
Motivation, the driving force behind our actions and behaviors, holds a pivotal role in emotional intelligence. It's the internal energy that propels us towards our goals, fueling our desire for achievement. Motivated individuals exhibit a positive attitude, perseverance, and an unstoppable urge to succeed.
They are proactive, resilient in the face of setbacks, and driven by an intrinsic desire to excel. Their motivation fuels their productivity and effectiveness, encouraging them to take on challenges, strive for success, and set higher standards for themselves.
Emotionally intelligent individuals are usually highly motivated, guided by an inner ambition and a passion for what they do. Their motivation stems from an intrinsic desire for fulfillment and personal satisfaction, rather than external incentives. Let motivation be the spark that ignites your journey towards greatness!
Empathy
Empathy is another key component of emotional intelligence. It's the ability to understand and share the feelings of others, effectively putting ourselves in their shoes. Empathy extends beyond mere sympathy, which is feeling for someone, to truly feeling with them. This emotional connection allows us to comprehend others' perspectives, thereby fostering mutual understanding, tolerance, and respect.
Highly empathetic individuals are adept at recognizing the emotions that others are experiencing, and they respond to these feelings with an appropriate emotion of their own. They are sensitive to the moods and emotional dynamics of their environment, allowing them to interact more effectively in their personal and professional relationships.
Social Skills
Social skills, the final element of emotional intelligence, hold the power to navigate and shape our relationships. They are the key to effective communication, conflict management, teamwork, and understanding social dynamics. A skilled individual excels in listening, verbal and non-verbal communication, as well as leadership.
In the realm of emotional intelligence, social skills are the culmination of self-awareness, self-regulation, motivation, and empathy applied to social interactions. Those who master these skills are approachable, effortlessly finding common ground, building rapport, and nurturing meaningful connections.
Role of Emotional Intelligence in Personal Growth
Emotional intelligence plays a pivotal role in personal growth, serving as the cornerstone that unifies various facets of self-improvement. Individuals who possess a high level of emotional intelligence exhibit profound self-awareness, understanding their own emotions, triggers, and reactions. Such self-awareness is vital.
They also demonstrate exceptional emotional regulation, effectively managing their feelings and enhancing their interactions both personally and professionally. These individuals are intrinsically motivated, driven by a deep desire for personal achievement rather than external rewards. Moreover, their innate ability to empathize allows them to establish meaningful connections and foster mutual understanding. Lastly, their well-honed social skills, cultivated through emotional intelligence, empower them to communicate persuasively, navigate conflicts, and thrive in collaborative team environments.
Developing Emotional Intelligence: Strategies
Developing emotional intelligence involves enhancing self-awareness, fostering self-regulation, boosting motivation, cultivating empathy, and honing social skills. Here are some strategies to build these competencies:
Mindfulness Practice: Regular mindfulness exercises such as meditation and reflective journaling can improve self-awareness by providing a platform to introspect and understand our thoughts and emotions better.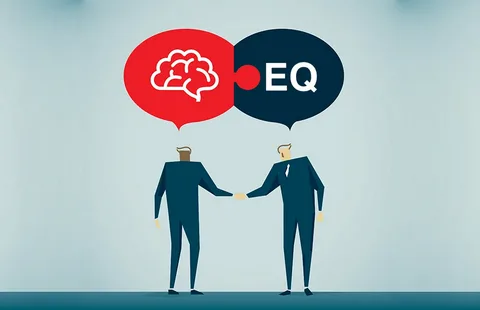 Emotional Self-Check: Consistently check in on your emotional state throughout the day. Recognize and label your emotions, and understand what triggers them. This continuous self-check fosters self-regulation.
Setting Personal Goals: Set challenging, yet achievable, personal goals aligned with your values and interests. The pursuit of these goals will naturally increase your motivation.
Active Listening: Practice active listening to enhance empathy. This means giving full attention to the speaker, avoiding distractions, and responding appropriately. By doing so, we can better understand others' feelings and perspectives.
Effective Communication Skills: Develop communication skills, both verbal and non-verbal, to improve social interactions. Learn to express your thoughts and emotions clearly, and be open to understanding others' points of view.
FAQs
What is emotional intelligence?
Emotional Intelligence encompasses the capacity to comprehend, harness, and navigate our own emotions proficiently. It entails being cognizant of our emotional state, regulating our emotions, fostering motivation, empathizing with others, and cultivating strong social skills.
Why is emotional intelligence important for personal growth?
Emotional intelligence plays a vital role in personal development as it encompasses self-awareness, self-regulation, motivation, empathy, and social skills. These elements enable individuals to gain a deeper understanding of themselves, effectively manage their emotions, stay motivated, empathize with others, and navigate social interactions with finesse.
How can I improve my emotional intelligence?
Enhancing Emotional Intelligence encompasses various practices such as mindfulness, self-reflection, goal-setting, attentive listening, and honing communication abilities. Consistently engaging in meditation, introspection, and comprehending emotional triggers can significantly elevate your emotional intelligence.
Conclusion
Emotional Intelligence: Beyond just a trendy buzzword, it's the key to personal growth and development. It lays the foundation for self-understanding, motivation, empathy, and navigating social interactions. By prioritizing its enhancement, you unlock your potential, improve relationships, and truly thrive, both professionally and personally. Remember, like any skill, Emotional Intelligence can be cultivated and improved over time. 🌟