Introduction
Inner joy, often overlooked, serves as a powerful catalyst for personal evolution and growth. By tapping into the wellspring of happiness that resides within us, we unlock our potential to transform our lives in profound ways. This article will delve into the concept of inner delight as a transformative force, exploring its origins, its impacts, and practical ways to cultivate it. The journey towards personal evolution begins with discovering the happiness that lies within us.
Inner Joy
Inner joy, a deep-seated sense of contentment and satisfaction, is a profound subject that requires thoughtful exploration and understanding. This innate state is not influenced by external events or material possessions, rather, it emanates from within, providing a sense of peace and serenity irrespective of life's ups and downs.
Inner delight is an internal state of delight, contentment, and peace. It is derived from the acceptance of self, the pursuit of purpose, and the nurturing of soulful connections. Unlike fleeting moments of happiness that depend on external circumstances, inner joy is constant and unwavering, rooted deeply in our inner beings.
The Importance of Inner Joy in Personal Growth
Inner delight plays a pivotal role in personal growth. It fosters positive outlooks, encourages resilience, and promotes a growth mindset. Joyful individuals are more likely to undertake challenges, embrace change, and persist in the face of adversity, all of which are crucial aspects of personal evolution.
Difference between Inner Joy from Happiness
While happiness is typically associated with specific events or possessions, inner delight is not tied to any external factors. It is a profound, enduring state of contentment and peace that exists irrespective of external circumstances. Unlike happiness, inner delight does not fluctuate with life's vicissitudes but remains a consistent source of positivity and strength.
Inner Joy Matters for Personal Evolution
Inner joy is integral to personal evolution as it preserves our mental and emotional health, promotes resilience, and enhances our capacity to cope with life's challenges. It fosters personal growth, enables us to pursue our passions with enthusiasm, and underpins our willingness to embrace new experiences and learn from them.
Inner delight plays a crucial role in personal development. It opens the door to self-discovery, promoting a sense of purpose and direction. It encourages us to undertake new challenges, fosters resilience, and serves as a catalyst for personal growth and transformation.
The Role of Inner Joy in Mental Health and Well-being
Inner delight directly contributes to mental health and well-being. It helps decrease stress, ward off anxiety, and foster a sense of peace and contentment. A joyful mind is more resilient, more open to new experiences, and better equipped to handle life's challenges, contributing to overall mental wellness.
Components of Inner Joy
Inner joy operates on various levels, each playing a crucial role in its cultivation and maintenance. Emotional Aspects: The emotional components of inner delight encompass positive emotions such as contentment, peace, love, and gratitude. These emotions create a favorable inner environment that fosters joy and nurtures overall well-being.
Cognitive Aspects: The cognitive aspects involve our thought processes, perceptions, and attitudes. Maintaining a positive outlook, embracing optimism, and practicing mindfulness can help foster inner delight. One's ability to find meaning and purpose in life also contributes to this sense of inner fulfillment.
Behavioral Aspects: The behavioral aspects of inner joy relate to our actions. Activities that align with our values and passions, fostering healthy relationships, and making a positive impact on the lives of others can all enhance our inner delight. These behaviors promote a sense of satisfaction and fulfillment, further cultivating a state of inner delight.
Cultivating Inner Joy
To nurture and enhance inner delight, several practices and techniques can be adopted.
Practices and Techniques for Nurturing Inner Joy
Mindfulness and Meditation: Engaging in mindfulness practices and meditation can help cultivate a sense of inner peace, leading to inner delight. These practices help promote focus, self-awareness, and acceptance, thus fostering a positive internal state.
Gratitude and Positive Affirmations: Practicing gratitude and positive affirmations can have a profound impact on our state of mind. Regularly expressing gratitude for what we have and using positive affirmations can help foster a more optimistic outlook, leading to increased inner delight.
Finding Purpose and Meaning: Identifying our purpose and deriving meaning from our actions can significantly contribute to our sense of inner joy. When we feel that our lives have purpose and meaning, we are more likely to experience a deep sense of satisfaction and fulfillment, thereby enhancing our inner delight.
Dealing with Stress and Negative Emotions: Stress and negative emotions can act as significant barriers to achieving inner delight. It's important to develop healthy coping mechanisms to manage these effectively. Techniques like deep breathing, exercise, or seeking support from friends or therapists can be beneficial. Recognizing and accepting negative emotions as a part of life, rather than fighting against them, can also help reduce their impact on our overall sense of well-being.
The Role of Self-Compassion and Forgiveness: Self-compassion involves treating ourselves kindly during times of failure or when we feel inadequate. By doing so, we can limit the negative self-talk that often accompanies these feelings. Similarly, forgiving ourselves for past mistakes can alleviate feelings of guilt and regret. Both self-compassion and forgiveness are crucial in overcoming obstacles to inner joy, as they promote mental peace and allow room for positive emotions to flourish.
Applications and Real-Life Implications
Practical Implementation of Inner Joy in Daily Life
Cultivating inner joy is not just beneficial to our well-being but can also positively impact various aspects of our daily lives. For instance, a joyful mindset can help us approach our daily tasks with a positive attitude, boost our creativity, and improve our problem-solving skills.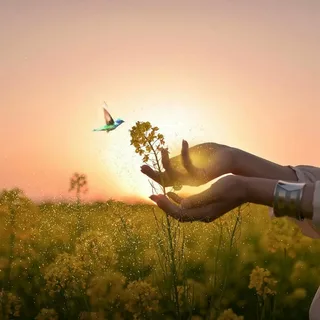 Workplace and Career Implications
In a professional setting, inner joy can make us more resilient in the face of challenges and foster a more positive workplace environment. People who possess inner joy are generally more engaged, productive, and committed to their work, which can contribute to career advancement and success.
Educational and Parenting Aspects
Inner joy can be an important tool in education and parenting. Teaching children about the concept of inner delight and its benefits can help them cultivate a positive mindset early in life. This can enhance their emotional intelligence and resilience, skills that are essential for personal and academic success. Furthermore, parents who embody inner joy can create a loving and nurturing environment for their children, which is conducive to their overall development.
FAQs
What is inner joy, and how is it different from happiness?
Inner joy is a deeper and more consistent state of positivity that comes from within, irrespective of external circumstances. Unlike happiness, which is often contingent upon external factors, inner delight is a more enduring state of contentment and peace.
How can I cultivate inner joy?
Cultivating inner joy involves self-reflection, acceptance, gratitude, and forgiveness. Practicing mindfulness, maintaining a positive outlook, and being kind to oneself are all essential aspects of fostering inner joy.
How does inner joy impact my professional life?
Inner joy can greatly enhance your professional life. It can increase your resilience, enhance your productivity, and foster a more positive workplace environment. It also contributes to higher job satisfaction and career success.
Conclusion
Inner joy, unlike fleeting moments of happiness, is a profound and enduring state of contentment that stems from within. It plays a pivotal role in personal evolution, enriching various aspects of life – from personal growth, and emotional well-being, to professional success. Embracing inner joy fosters resilience and a positive outlook, enabling individuals to navigate challenges with grace, and turning them into opportunities for growth. It radiates positivity, cultivating a supportive and thriving environment, whether it's at home, at work, or in the broader society.
Inner joy is not just a personal state of mind, it's a catalyst for broader societal evolution, like a pebble causing ripples in a pond. Therefore, cultivating inner joy is an investment in personal growth and a contribution to a healthier and more harmonious society.