Introduction
Mentorship, the profound relationship that cultivates growth and facilitates success, is a fundamental cornerstone in both personal and professional development. This article titled "Mentorship in Motion: Inspiring Success", delves into the power and influence of effective mentorship. We unravel its quintessential role in shaping individuals' journeys, fostering progress, and propelling them towards their envisioned success. Whether you are a mentor, mentee, or an organization seeking to integrate mentorship, this piece offers insights into the dynamics, benefits, and transformative influence of mentorship.
Mentorship
Mentorship is essentially a reciprocal and collaborative relationship, typically between an experienced individual, the mentor, and a less experienced mentee. The mentor imparts knowledge, shares experiences, and provides guidance to foster the mentee's growth, development, and success. The relationship is characterized by mutual respect, trust, and communication, wherein both parties learn, grow, and benefit.
The Significance of Mentorship in Personal and Professional Growth
Mentorship is instrumental in personal and professional growth. Its significance lies in its ability to guide individuals as they navigate through their career and personal lives, providing insight, wisdom, and perspective. A mentor, with their wealth of experience and knowledge, can challenge assumptions, provoke thought, and inspire progress, thereby paving the way for substantial development.
Types of Mentorship
Mentorship manifests in different forms, each with its unique attributes and advantages.
Formal vs. Informal Mentorship
Formal mentorship typically involves a structured and organized approach, often facilitated by institutions or organizations, while informal mentorship develops naturally, often emerging from personal relationships or networking. Both forms have their merits, with formal mentorship offering a structured path toward growth and informal mentorship allowing for a more organic, flexible relationship.
Industry-specific Mentorship
Industry-specific mentorship is a specialized form of guidance where the mentor possesses specific knowledge and experience in the mentee's field of interest. This form of mentorship is particularly beneficial in fields like medicine, technology, and the arts, where targeted advice and guidance can significantly accelerate a mentee's progress and success.
The Role of Peer Mentorship
Peer mentorship involves mentorship relationships between individuals of similar age, experience level, or career stage. This type of mentorship fosters a collaborative environment where individuals can learn from each other's experiences, challenges, and successes, promoting mutual growth.
Mentorship Programs
Many educational institutions and corporations have established mentorship programs to foster talent, encourage growth, and cultivate a culture of ongoing learning. These programs often pair younger or less experienced individuals with more seasoned professionals in their respective fields, paving the way for knowledge transfer, skill development, and career advancement.
Key Players in Mentorship
Mentors
Mentors are experienced individuals who offer guidance, advice, and support to their less experienced mentees. They provide insights that accelerate learning, foster growth, and help their mentees navigate challenges in their personal and professional lives. Their roles may include providing career advice, imparting skills, sharing insights from their experiences, and serving as role models.
Mentees
Mentees, or protégés, are individuals seeking guidance to improve their skills, knowledge, or career advancement. They actively engage in the mentorship process by asking questions, seeking advice, and implementing the knowledge and skills gained from their mentors. Their openness to learning and ambition to grow are crucial to the success of the mentorship relationship.
Mentorship Organizations
Mentorship organizations play a pivotal role in connecting mentors and mentees, providing a platform for these relationships to flourish. They may offer training programs for mentors, facilitate mentor-mentee matching based on mutual interests and goals, and provide resources to foster effective mentorship relationships.
The Dynamics of Successful Mentorship
The Mentor-Mentee Relationship
A successful mentorship relationship is built on trust. The mentor and mentee must trust each other's motives, respect each other's time, and feel comfortable sharing ideas and feedback. Honest, constructive criticism is fundamental to the mentee's growth, and this can only be achieved in a safe, trusting environment.
Goal Setting
Another key element of successful mentorship is clear and realistic goal setting. Both parties must have a mutual understanding of what the mentee wishes to achieve from the mentorship. This could be skill development, career progression, or advice on specific projects. Clear goals guide the mentorship process and ensure that both parties are on the same page regarding expectations.
Challenges and Solutions
Every mentorship relationship experiences challenges. These might include time constraints, differences of opinion, miscommunication, or unmet expectations. These obstacles can be overcome by open communication, flexibility, and a willingness to adapt and learn from each other. A problem-solving approach can turn challenges into opportunities for growth.
Measuring Success
The success of a mentorship program can be measured through various metrics. These could include the mentee's progress toward their goals, the duration of the mentorship relationship, the mentee's satisfaction with the mentorship, and their overall professional development. Feedback from both the mentor and mentee is also an essential tool for assessing the effectiveness of the mentorship.
Impact of Mentorship on Personal Growth
Mentorship has profound implications for personal growth, extending beyond professional development.
Skill Development: Mentorship often equips mentees with new abilities that are essential for their career trajectory. Through guidance, advice, and shared experiences, mentors help their mentees acquire and refine crucial skills, such as leadership, communication, and problem-solving.
Confidence Boost: Mentorship programs often empower individuals by boosting their confidence. By providing constructive feedback, mentors can help their mentees overcome self-doubt, enabling them to embrace challenges and seize opportunities with greater confidence.
Mentorship in Career Advancement: Mentorship often acts as a catalyst in career progression. Mentors, with their wealth of experience, can provide valuable insights and guidance to mentees, helping them navigate the professional landscape effectively. This can accelerate their climb up the career ladder.
Mentorship for Personal Development: Beyond the workplace, mentorship can significantly contribute to personal development. From instilling a growth mindset to building resilience, the lessons learned from a mentor can greatly enrich one's personal life and worldview.
Find a Mentor or Become One
Finding a mentor or becoming one can seem like a daunting task. However, with the right approach, it can be a rewarding process that contributes significantly to personal and professional growth.
Where to Start
Begin by identifying your goals and defining what you hope to gain from a mentorship. Look for someone who aligns with your career aspirations and values. Networking events, professional associations, and your existing professional connections are great places to start your search.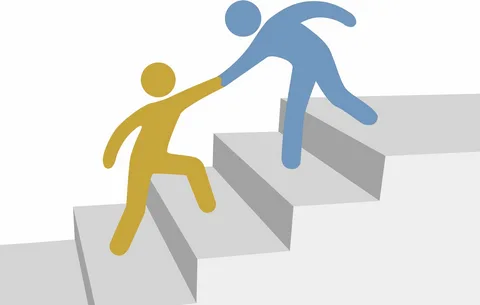 Becoming a Mentor
If you have substantial experience in your field and a desire to give back, becoming a mentor could be a fulfilling journey for you. Start by offering your expertise to junior colleagues in your workplace or reaching out to professional communities to find potential mentees who could benefit from your guidance.
FAQs
What is mentorship?
Mentorship is a relationship in which a person with more experience or knowledge guides someone with less experience or knowledge. It is a professional, working alliance in which the mentor imparts skills, knowledge, and wisdom to the mentee.
Why is mentorship important?
Mentorship promotes personal and professional development, providing guidance, motivation, emotional support, and role modeling. It enables the mentee to gain from the mentor's expertise, receive feedback in key areas, and learn specific skills and knowledge relevant to personal goals.
How can I find a mentor?
Finding a mentor requires clear identification of your goals and what you hope to gain from a mentorship. You can find potential mentors at networking events, professional associations, and within your existing professional network.
Conclusion
Mentorship in Motion encapsulates the power and impact of effective mentorship in personal and professional development. By fostering a relationship built on shared knowledge, experience, and mutual growth, mentorship provides an invaluable roadmap to success. Whether you are seeking guidance from a mentor or offering your expertise as one, you are participating in a rewarding process that not only enhances skills and broadens perspectives but also creates lasting professional relationships. The journey of mentorship is indeed a journey towards inspired success.