Introduction
Pisces zodiac sign encapsulates the constant struggle between reality and the mystical world, making it a truly fascinating study for astrology enthusiasts. In this article, we will delve into the characteristics and traits that define a Pisces, unravel the compatibility with other zodiac signs, and explore the influence of this sign on personal and professional life. Join us as we swim through the deep waters of the Piscean world, unveiling its many layers and complexities.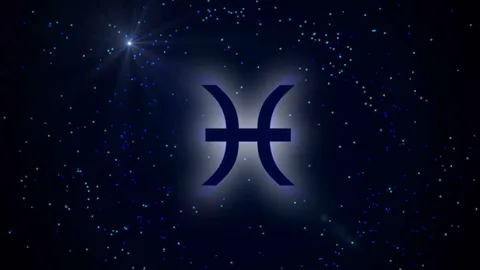 Pisces Zodiac Sign
Pisces zodiac sign, represented by the symbol of two fish swimming in opposite directions, is the twelfth sign of the zodiac. Governed by the planet Neptune, Pisces is a water sign, known for its profound sensitivity, compassion, and artistic inclination. Spanning the 330° to 360° of the zodiac, Pisces is typically associated with imagination, spirituality, and empathy, often characterized by an intuitive and emotional nature.
Historical Significance
The Pisces zodiac sign constellation has been significant across diverse cultures and epochs. Originating from the Latin word 'piscis' meaning fish, its symbolism can be traced back to ancient civilizations. The two fishes that represent Pisces are often linked to the Greek myth of Aphrodite and her son Eros, who transformed into fishes to escape the monstrous Typhon. Later, during the Hellenistic period, the constellation took on its current name and has since been recognized as a significant symbol in astrology, deeply imbued with spiritual and creative connotations.
The Pisces Element
The element of Water in astrology signifies emotion, intuition, and the inner world of imagination. Pisces, being a water sign, inherits these characteristics, leading to its proclivity towards empathy, spirituality, and introspection. Piscean's individuals tend to be deeply sensitive and emotionally perceptive, often demonstrating an ability to connect with others on a profound, emotional level.
Pisces Ruling Planet
Neptune, the ruling planet of Pisces, is often associated with dreams, intuition, and spiritual enlightenment, further enhancing the mystical and imaginative traits of this sign. Named after the Roman God of Seas, Neptune's influence instills in Pisces a sense of idealism, creativity, and a strong pull towards the metaphysical. This planet encourages Pisces to drift into their dream-like world, often blurring the lines between reality and fantasy, and fostering their artistic and creative pursuits.
Pisces Zodiac Sign Personality Traits
Pisceans are known for their rich emotional landscape, creative flair, empathetic nature, and deep spirituality. They are intuitive souls, often possessing an uncanny ability to sense what others are feeling. They are also highly artistic, using various forms of art to express their complex emotions and views of the world.
Emotionally Sensitive
Pisceans have a profound emotional sensitivity, allowing them to connect with and understand their own emotions as well as those of the people around them. They often wear their hearts on their sleeves, making them one of the most emotive signs in the zodiac. This emotional depth can make them highly compassionate, but also vulnerable to emotional upheaval.
Creative and Artistic
With a rich imagination and a world that often blends reality and fantasy, Pisceans is naturally inclined toward the arts. Their creativity knows no bounds, and they can be found excelling in fields such as music, painting, writing, and dance. Art for Pisceans is not just a hobby, but a medium of expressing their deepest thoughts, emotions, and visions.
Empathetic and Compassionate
Pisces' deeply empathetic nature allows them to relate to the emotions and experiences of others, often leading them to act with kindness and understanding. They tend to be altruistic, often putting others' needs before their own. This makes them great listeners and friends, always ready to provide a shoulder to cry on or a comforting word.
Intuitive and Spiritual
Pisceans are often deeply spiritual individuals, exploring the metaphysical aspects of life with great interest. Their intuitive abilities make them highly perceptive, able to sense and understand things that might elude others. Pisces' spirituality is often tied to their emotional depth, leading to a unique blend of emotional intelligence and spiritual insight.
Pisces in Love and Relationships
In the realm of love and relationships, the Pisces zodiac sign is among the most romantic and idealistic signs of the zodiac. Their deep emotional sensitivity and intuition often translate into a strong desire for connection and understanding, becoming pillars of their romantic relationships.
Romantic and Idealistic
Pisceans are true romantics at heart, often approaching love with dreamy idealism. They have a deep yearning for a soulful connection and can be intensely loyal and faithful in relationships. Pisceans seek not just a partner, but a soulmate, someone who can understand and reciprocate their emotional and spiritual depth.
Compatibility with Other Signs
Pisces individuals are most compatible with signs that can respect their depth of emotion and reciprocate their level of commitment. Water signs such as Cancer and Scorpio often make a good match, as they share Pisces' emotional depth and intuitive nature. Earth signs like Taurus and Capricorn can also be compatible, providing the stability and groundedness that Pisces often needs.
Challenges in Relationships
Despite their dreamy and idealistic approach to love, Pisces individuals can face challenges in relationships. Their emotional sensitivity can sometimes lead to feelings of vulnerability, causing them to retreat into their world. They are prone to idealize their partners, which can lead to disappointment if reality falls short of their expectations.
Pisces' selfless nature and tendency to put others before themselves can also lead to an imbalance in relationships, making it important for them to ensure their own needs are also being met. Despite these challenges, when Pisces learns to balance their emotional depth with practicality, they can form deeply rewarding and meaningful relationships.
Pisces in Career and Creativity
Pisceans can excel in a variety of professions thanks to their empathetic, intuitive, and creative traits. Their natural ability to understand and connect with people can make them successful in jobs that require deep understanding and emotional intelligence, such as counseling, social work, or nursing. Pisces' imaginative and artistic abilities can also lead them to thrive in the creative arts, music, writing, or film industries. Additionally, their spiritual and introspective nature can draw them toward careers in philosophy, religion, or spirituality.
Pisceans possess a rich inner world, filled with imagination and creativity. They often see beyond the surface of things, finding inspiration in the most mundane aspects of life. This, combined with their deep emotional understanding, can result in truly moving and profound artistic expressions. Pisces is a sign that nurtures its artistic and imaginative talents, often using it as a means of communication and self-expression.
FAQs
What are the key characteristics of a pisces?
Individuals with Pisces zodiac signs are renowned for their emotional sensitivity, creative flair, empathetic nature, and deep spirituality. They possess a rich imagination and are often drawn to artistic and creative endeavors.
Which zodiac signs are most compatible with pisces zodiac sign?
Those born under the Pisces zodiac sign find great compatibility with water signs like Cancer and Scorpio. These signs share a deep emotional connection and intuitive understanding. Additionally, earth signs such as Taurus and Capricorn can provide the stability and grounding that Pisces often desires in a partner.
What challenges does pisces zodiac sign face in relationships?
Pisces zodiac signs may face challenges in relationships due to their emotional sensitivity, inclination to withdraw into their realm, and tendency to idealize their partners. Striking a balance between their emotional depth and practicality can pave the way for profoundly fulfilling connections.
Conclusion
Individuals born under the Pisces zodiac sign embody a captivating blend of creativity, empathy, spiritual depth, and emotional sensitivity. They demonstrate a visionary nature, often delving beneath the surface to comprehend the essence of matters. Pisceans' innate empathy and compassion make them exceptional friends and confidants, while their profound intuition fuels their spiritual inquisitiveness.
In matters of love, they are romantics, seeking profound connections that resonate at the soul level. Despite encountering challenges in relationships due to their emotional vulnerability and idealism, Pisceans possess the potential to navigate them with understanding and maturity. In their professional lives, they excel in roles that leverage their empathetic understanding and creative talents. Truly, to know a Pisces is to immerse oneself in a realm characterized by emotional depth, creative brilliance, and spiritual exploration.