Introduction
Maintaining a positive attitude is more than just a popular mantra; it can be a way of life that leads to inner peace and overall well-being. This article delves into the power of an optimistic outlook and how it can transform various facets of your life. We'll explore scientific evidence supporting the benefits of positivity, techniques for cultivating a positive mindset, and real-life examples of how positivity can lead to a state of inner peace. So, whether you're curious or in need of a positivity boost, this piece aims to enlighten and inspire.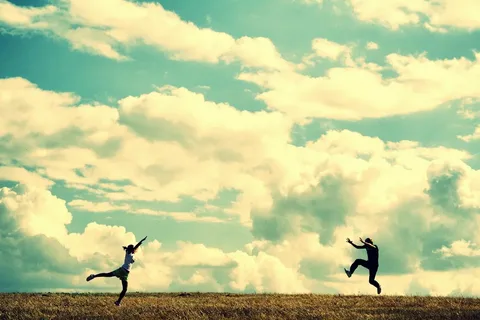 Positive Attitude
A positive attitude refers to a mental state that reflects optimism, hope, and a focus on good outcomes. It is not about ignoring life's difficulties or challenges, but rather choosing to approach such situations more productively and constructively.
The Importance of a Positivity
The significance of maintaining a positive attitude cannot be overstated. Studies reveal that optimism can alleviate stress, increase resilience, and even boost the immune system. It helps in fostering better relationships, increasing productivity, and enhancing overall quality of life.
Positivity Leading to Inner Peace
Embracing a positive attitude paves the way for inner peace. By focusing on the good, we become better equipped to let go of negativity and anxiety. This state of tranquility allows us to navigate through life's ups and downs with grace and composure, fostering a sense of happiness and fulfillment.
The Science of Positivity
The science behind positivity is deeply rooted in psychology and neuroscience. It involves the release of certain neurotransmitters that are responsible for cultivating feelings of happiness and optimism.
Psychological Aspects of Positivity
From a psychological perspective, positivity is associated with greater mental resilience, improved coping mechanisms, and enhanced problem-solving skills. A positive outlook often stimulates open-mindedness, enabling individuals to perceive challenges as opportunities rather than threats.
The Role of Neurotransmitters in Shaping Attitudes
Neurotransmitters such as serotonin, dopamine, and oxytocin play a vital role in shaping our attitudes. These chemicals are released in the brain and contribute to feelings of happiness, contentment, and relaxation. A positive attitude can stimulate the production of these neurotransmitters, thereby improving mood and promoting positivity.
Optimism Affecting Mental Health
Optimism has a profound effect on mental health. Research has consistently shown that an optimistic outlook can reduce the risk of depression, decrease anxiety, and even lower the likelihood of developing certain physical health issues.
Benefits of Maintaining a Positive Attitude
Maintaining a positive attitude has numerous benefits, spanning from personal growth to interpersonal relationships.
Positive Attitude Enhances Resilience
In the face of adversity, a positive attitude acts as a cushion, enabling individuals to bounce back more swiftly. By focusing on solutions rather than problems, positivity promotes resilience, facilitating a quicker recovery from setbacks and enhancing overall emotional well-being.
Improved Problem-Solving Abilities
A positive attitude inherently fosters a solution-oriented mindset. It propels individuals to think outside the box, thereby enhancing their problem-solving abilities. This can lead to more effective strategies to overcome challenges, paving the way for personal and professional success.
Positive Attitude and Physical Well-being
The mind-body connection implies that a positive mindset can positively influence physical health. Studies suggest that individuals with a positive attitude may enjoy better health and longer lifespans, possibly due to lower stress levels and healthier lifestyle choices.
Building Stronger Relationships Through Positive Attitude
Positivity can act as a social magnet. It encourages healthy communication, empathy, and understanding, which are foundational elements of strong relationships. Consequently, maintaining a positive attitude can lead to more fulfilling and meaningful connections with others.
Strategies for Developing Positive Attitude
Developing and sustaining a positive attitude involves regular practice and conscious effort. It starts with recognizing and challenging negative thoughts and replacing them with positive ones. Maintaining a daily journal of positive experiences, engaging in activities that bring joy, and setting realistic, achievable goals can also be effective strategies.
The Power of Gratitude in Fostering Optimism
Gratitude is a powerful tool in fostering optimism. It shifts our focus from what's lacking in our lives to the abundance that's present. Practicing gratitude regularly, such as writing in a gratitude journal or expressing thankfulness to others, can significantly boost our positivity and overall sense of happiness.
Practicing Mindfulness and Positive Self-Talk
Mindfulness involves living in the present moment and accepting it without judgment. This practice can help us stay focused on the positive aspects of our lives. Alongside mindfulness, practicing positive self-talk can significantly influence our mindset. Instead of indulging in self-criticism, we should consciously choose words that promote self-love and self-acceptance.
Surrounding Yourself with Positivity
Our environment significantly influences our attitude. Surrounding ourselves with positive people encourages a positive exchange of ideas, boosts morale, and provides a supportive network that nurtures positivity. Additionally, creating a positive physical environment, involving elements like natural light or plants, can also uplift our mood and promote a positive attitude.
The Impact of a Positive Attitude on Society
A positive attitude can have profound effects on society. It fosters a sense of cooperation, understanding, and mutual respect among individuals, leading to more harmonious relationships. It generates an environment where creativity and innovation flourish, and problems are seen as opportunities for growth rather than stumbling blocks.
Positivity Leading to Social Change
Positive attitudes can act as catalysts for social change. Optimism motivates individuals to strive for better outcomes and encourages the belief that positive change is possible. This mindset can stimulate collective action, transforming communities and societies into more vibrant, inclusive, and equitable places.
The Role of Optimism in Leadership and Innovation
Optimism plays a crucial role in leadership and innovation. Leaders with a positive outlook inspire others with their vision, instilling in them the confidence to overcome challenges and work towards common goals. Moreover, an optimistic attitude fuels innovation by inspiring individuals to think outside the box, take calculated risks, and persist in the face of setbacks.
Positive Attitude as a Driver of Personal
A positive attitude is a driver of both personal and global progress. On a personal level, positivity can unlock potential, boost resilience, and enhance overall well-being. At a global level, a collective positive attitude can lead to advancements in various fields, including technology, healthcare, and environmental sustainability, contributing to a better and more prosperous world.
FAQs
What is the difference between a positive attitude and optimism?
While both terms are related and often used interchangeably, there is a subtle difference between a positive attitude and optimism. A positive attitude refers to a mindset or disposition that anticipates good outcomes and views situations in a constructive light. It's about maintaining a positive mindset regardless of the circumstances. Optimism, on the other hand, is a belief that the future will be good and that overall, things will turn out well. It's confidence about future events and outcomes.
Can anyone develop a positive attitude?
Developing a positive attitude is not dependent on one's personality or circumstances. It is a skill that can be nurtured and honed over time. Various strategies like adopting positive self-talk, practicing gratitude, and surrounding oneself with positive influences can help cultivate a positive attitude.
How long does it take to see the effects of a positive attitude?
The timeframe for seeing the effects of a positive attitude can vary from person to person. Some people may notice immediate changes in their mood and outlook, while others may experience gradual shifts over a longer period. However, with consistent practice and commitment, most people begin to see positive changes in their thought patterns, behavior, and overall well-being within a few weeks.
Conclusion
A positive attitude and fostering optimism are key tools for achieving inner peace. Both are proactive approaches to life, encouraging individuals to approach situations with hope and positivity, regardless of the circumstances. By choosing to view life through a lens of positivity, one can significantly enhance their mental well-being, boost resilience, and foster a healthier perspective towards life's challenges. Embracing optimism, with its belief in a brighter future, can further nourish this positivity, offering a powerful antidote to stress, anxiety, and negativity. Such a positive outlook, coupled with optimism, is not just a state of mind but a journey towards inner peace and a happier, more fulfilled life.