Introduction
Quantum biology, a relatively new field of science, seeks to apply the theories of quantum physics to biological phenomena. It's an area that dares to ask if the bizarre, counter-intuitive world of quantum mechanics might be at the very heart of life itself. From the inner workings of photosynthesis to the principles of avian navigation, quantum biology may hold the keys to some of life's most profound mysteries. This article will delve into the crux of quantum biology, exploring its potential implications and the scientific revolutions it could incite. Brace yourself as we embark on a journey through the essence of life, seen through the lens of quantum mechanics.
Fundamentals of Quantum Biology
Quantum biology is the study of applications of quantum mechanics to biological objects and phenomena. It is an emerging field that sits at the intersection of biology and physics, aiming to elucidate the role of quantum phenomena in life processes. The scope of quantum biology extends from understanding the quantum behavior in photosynthetic light harvesting to explaining the magneto reception in bird navigation.
Historical Context
The roots of quantum biology can be traced back to the early 20th century when quantum mechanics was first being established. However, it wasn't until the late 20th century that scientists began to seriously consider its applications in biology. Key experiments in the 1990s and early 2000s revealed quantum effects in photosynthesis and bird navigation, prompting a renewed interest in the field. Today, quantum biology is a vibrant area of research, poised to revolutionize our understanding of life at the most fundamental level.
Key Concepts
Three of the key concepts in quantum biology are superposition, entanglement, and coherence. Superposition, the ability of particles to exist in multiple states at once, may play a crucial role in how photosynthetic organisms can absorb and utilize light efficiently. Entanglement, a phenomenon where particles remain instantaneously connected regardless of distance, could be involved in various biological processes, including DNA mutation. Quantum coherence, the ability for particles to oscillate together, is hypothesized to play a role in avian navigation, helping birds sense Earth's magnetic field. Each of these concepts opens up new and exciting possibilities for understanding the complexity and beauty of life on a quantum level.
Quantum Processes in Living Organisms
A deeper understanding of quantum biology allows us to shed light on quantum phenomena occurring within living organisms. This involves uncovering the quantum processes that underline various biological functions, thereby expanding our comprehension of life's intrinsic operations.
Photosynthesis
Photosynthesis, the process by which green plants convert sunlight into chemical energy, demonstrates quantum phenomena at work. The remarkable efficiency of photosynthesis may be explained by quantum coherence, allowing energy to simultaneously traverse multiple paths to reach the reaction center with minimal loss.
Avian Navigation
Birds exhibit a fascinating ability to navigate long distances with remarkable precision. Quantum biology might play a part in this extraordinary feat. The quantum entanglement of electrons in certain proteins in birds' eyes may help them perceive the Earth's magnetic fields, enabling accurate navigation.
DNA Mutation
Quantum mechanics may also be involved in genetic mutations. It is hypothesized that DNA can exist in a state of quantum superposition where it is both damaged and undamaged simultaneously. This paradox could explain the occurrence of spontaneous mutations at a molecular level.
These instances illustrate how quantum processes are intricately woven into the very fabric of life, providing a more profound understanding of biological functions. As our scientific knowledge evolves, we can expect quantum biology to play an increasingly significant role in deciphering the mysteries of life.
Quantum Biology at the Cellular Level
The principles of quantum mechanics also exert their influence at the cellular level, with two key examples being DNA and quantum sensing in cells.
DNA and Quantum Entanglement
Quantum entanglement, a phenomenon where particles remain linked regardless of their distance from each other, may play a significant role in DNA. It is theorized that entangled particles in the DNA molecule could explain the ultra-efficient transfer of information within the DNA helix, essentially the "communication" that occurs between particles at different ends of the DNA strand. This quantum communication could be the mechanism that drives the DNA replication process and other genetic functions. However, these concepts are still in the realm of theoretical biology and require more scientific evidence.
Quantum Sensing in Cells
Cells, the basic building blocks of life, may also utilize quantum principles for navigation in the microscopic world. It's postulated that cells exploit quantum effects to sense their environment and respond appropriately. For instance, olfactory cells in our noses might be using quantum tunneling to identify different odor molecules. Similarly, it's suggested that the quantum behavior of ions in cellular channels is crucial for nerve signal transmission. As our understanding of quantum biology grows, we may discover that quantum sensing is a common and vital process in the cellular world.
Quantum Biology and Consciousness
Exploring the connection between quantum mechanics and consciousness extends the realm of quantum biology into the mysteries of the mind and cognition. This fascinating intersection seeks to explain how quantum phenomena may play a role in our cognitive processes and our understanding of consciousness itself.
Quantum Brain
The "Quantum Brain" hypothesis suggests that quantum processes may underlie the workings of our brains, influencing neural processes and cognitive functions. This theory postulates that the brain may rely on quantum mechanics to store and process information. Quantum superposition, for instance, could enable simultaneous processing of vast amounts of data, pointing to a potential explanation for the brain's remarkable computational power. Some researchers also propose that quantum coherence might be involved in the synchronization of neural firing, which is critical for various cognitive tasks. However, these ideas are highly speculative and require further empirical verification.
Consciousness and Quantum Entanglement
The relationship between consciousness and quantum entanglement is a subject that has sparked much debate. Some scientists and philosophers suggest that quantum entanglement, the phenomenon where particles are interconnected, and their states are instantly correlated, might be intricately linked to consciousness. This theory, often known as "Quantum Mind," proposes that entangled particles in the brain could give rise to unified, conscious experiences. Some proponents even argue that entanglement might provide a scientific basis for phenomena such as telepathy or extra-sensory perception.
Quantum Biology and Evolution
Quantum biology may also have significant implications for our understanding of evolution. From the workings of enzymes to the process of mutation that drives variation, quantum effects are thought to play a vital role.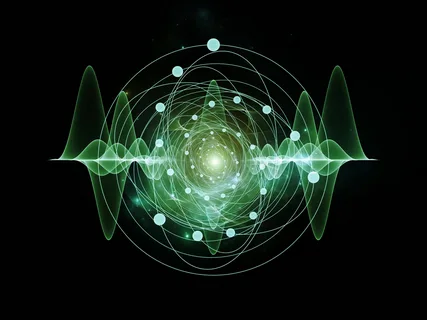 Quantum-driven Mutation
As aforementioned, quantum superposition could help explain the occurrence of spontaneous mutations at a molecular level. This quantum effect, where DNA simultaneously exists in a damaged and undamaged state, may contribute to the genetic variations that are the fuel for evolution. Quantum-driven mutations could potentially create genetic diversity much faster than classical processes alone, offering an intriguing perspective on the engine behind evolution.
Quantum Enzymes
Enzymes, the biological catalyzes, play a pivotal role in the survival and adaptation of species. Quantum tunneling, a phenomenon whereby particles can pass through barriers that should be insurmountable according to classical physics, is believed to be employed by enzymes to speed up biochemical reactions crucial for life. By harnessing this quantum process, enzymes are able to perform their functions efficiently and rapidly, offering a survival advantage to organisms and influencing the course of biological evolution.
FAQs
What is quantum biology?
Quantum Biology refers to the application of quantum mechanics to biological objects and phenomena. It investigates how quantum principles might govern life's most fundamental processes, from DNA replication to cellular functions, brain activities, and even evolution.
How does quantum physics relate to biology?
At the most basic level, all matter, including biological entities, is made up of particles governed by quantum rules. Quantum biology examines how life might exploit these rules to drive key functions. For example, quantum effects like superposition or entanglement could underlie DNA replication or neural information processing.
Can quantum mechanics explain consciousness?
The "Quantum Brain" hypothesis suggests that quantum processes might be involved in cognitive functions and consciousness. However, this is still a speculative idea, and more empirical research is needed to validate these claims.
Conclusion
The field of Quantum Biology presents a provocative and intellectually stimulating frontier in science, offering new perspectives on the fundamental processes of life. From the quantum-driven mechanisms in DNA replication, cellular sensing, and enzymatic reactions, to the speculative theories about quantum consciousness and evolution, there's a wealth of potential knowledge waiting to be unearthed.
While many of these ideas remain in the realm of theory and speculation, they underscore the profound interconnectedness between the physical universe and the life it harbors. As we continue our scientific exploration, we may find that life's essence is not just biological, but fundamentally quantum. The bridge between quantum mechanics and biology may indeed hold the answers to some of the most profound questions about life, consciousness, and evolution.