Introduction
Spiritual Alchemy, a process deeply rooted in ancient traditions, symbolizes the journey toward self-realization and inner transformation. It borrows its metaphors from the physical practice of alchemy — the quest to turn to lead into gold — but on a spiritual level, its purpose is to refine the raw aspects of ourselves, turning our 'lead' into 'gold', our true essence. This article delves into the practices of Spiritual Alchemy, offering insight into an array of techniques designed to foster personal growth and facilitate a deeper understanding of the self. From meditation to mindfulness, visualization to affirmation, each practice provides a unique pathway to enlightenment and self-improvement.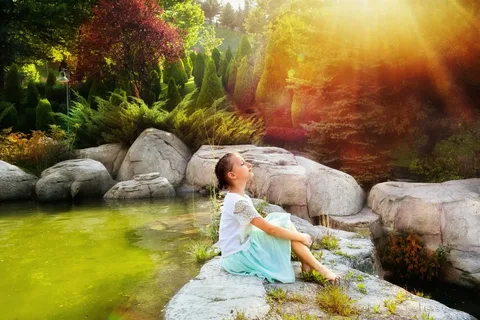 Spiritual Alchemy
Spiritual Alchemy can be described as the process of self-transformation and self-realization, where individuals refine and purify the less refined aspects of themselves to unveil their true essence.
Historical Overview
Although Alchemy's origins are rooted in the physical transformation of substances, notably the quest to transform lead into gold, over the centuries it transitioned into a spiritual discipline. Such a shift can be traced back to ancient civilizations like Egypt, where spiritual alchemy was practiced as a mystical path toward illumination and inner wisdom.
Core Principles and Beliefs
The core principles of spiritual alchemy revolve around the belief in a higher self and the notion that humans have the potential to achieve divine nature through self-reflection, self-discipline, and inner work. It emphasizes the need to transmute negative energies into positive ones and encourages the pursuit of spiritual growth through practices like meditation, affirmations, and visualization.
Comparison with Traditional Alchemy
While traditional alchemy concentrates on the material transformation of substances, spiritual alchemy shifts the focus inward. Instead of transmuting base metals into gold, spiritual alchemy is concerned with the transformation of the self. It seeks to transmute the 'lead' of our lesser, base aspects into the 'gold' of our true nature.
The Three Stages of Spiritual Alchemy
Spiritual Alchemy involves three vital stages: Nigredo, Albedo, and Rubedo, each representing a different phase in the transformative journey of self-realization.
Nigredo
Nigredo, or the blackening, is the initial stage of spiritual alchemy. This process involves dissolution, a confrontation with the shadow self – the less acknowledged or repressed aspects of one's personality. The purpose of Nigredo is to confront and understand these darker facets, which are often obscured by ego or fear.
Practices and Techniques Associated with Nigredo
Practices commonly associated with the Nigredo stage include introspection, meditation, journaling, and dream analysis. These techniques help individuals delve into their subconscious, bringing light to the shadows and facilitating a deeper understanding of their inner self.
The Significance of Embracing the Darker Aspects of Self
Embracing the darker aspects of self in Nigredo is crucial for growth and transformation. By acknowledging and understanding these shadow aspects, one can integrate them into their consciousness and utilize their power constructively. This critical self-reflection facilitates the purging of negativity, creating space for positive transformation in subsequent stages of spiritual alchemy.
Albedo
Albedo, or the whitening, is the second stage of spiritual alchemy, symbolizing purification and integration. In this process, the individual undergoes internal refinement, purging what's left of the impurities revealed during the Nigredo stage, and integrating the transformed aspects of self into their consciousness.
Methods for Purification and Inner Refinement
The Albedo phase invites the application of various techniques for purification and inner refinement. These can include practices such as fasting, breath work, and sometimes even rituals or ceremonies aimed at purifying not only the body but also the mind and spirit. The goal is to facilitate the release of lingering negative energies and make way for the self's refined, 'whitened' state.
Inner Work, Meditation, and Self-Reflection Practices
During Albedo, the inner work intensifies. Meditation becomes a more critical practice, encouraging mindfulness and present-moment awareness. Self-reflection exercises, such as guided visualization and affirmation work, may be employed to facilitate the integration process. Through these practices, the individual learns to accept their transformed self, integrating the 'light' and 'dark' aspects of their being into harmony.
Rubedo
Rubedo, the final stage of spiritual alchemy, represents the achievement of enlightenment and complete transformation. As the 'reddening' phase, it symbolizes the dawn of a new spiritual consciousness, embodying the full integration and realization of one's true self.
Techniques for Achieving Self-Realization and Spiritual Awakening
In the Rubedo stage, practices that promote self-realization and spiritual awakening become essential. Deep meditation, introspective journaling, mindfulness-based stress reduction (MBSR), and spiritual retreats can serve as transformative tools in this phase. Regular engagement in these practices assists individuals in achieving a heightened state of consciousness, self-realization, and spiritual awakening.
Integrating the Spiritual Insights Gained
The culmination of the Rubedo stage is the integration of all spiritual insights gained throughout the alchemical journey. As individuals realize their higher self, they learn to integrate this awareness into their daily lives, embodying the spiritual wisdom in their thought patterns, interactions, and actions. This integration signifies the attainment of a 'golden' state of consciousness, where the individual is in harmonious balance with their inner self and the surrounding universe.
Spiritual Alchemy in Practice
Spiritual alchemy, while profoundly transformative, needs to be practiced daily to fully integrate its principles and realize its benefits. Here are some ways to apply these principles in daily life:
Application of Principles
Spiritual alchemy promotes a holistic approach to life, advocating the integration of body, mind, and spirit. In day-to-day life, this might mean practicing mindfulness, displaying kindness and empathy, embracing change, and striving for balance. Recognizing the interconnectedness of all things and appreciating the beauty of the natural world can also be powerful expressions of alchemical principles.
Practical Exercises
Daily practices such as meditation, yoga, journaling, and visualization can serve as tools for personal growth and transformation. Rituals may include daily affirmations, setting intentions, or creating sacred spaces. Each of these practices aids in self-reflection, fostering self-awareness, and promoting personal growth and transformation.
Alchemical Symbolism in Daily Practices
Alchemical symbolism can be integrated into daily practices as reminders of the transformation process. For instance, the symbol of the Ouroboros, a snake eating its tail, represents the cyclical nature of life, death, and rebirth. By reflecting on this symbol, one can find solace in times of change and gain insight into the cyclical patterns of their own life. Keeping such symbols in one's living space, or using them in meditation and visualization practices, can serve as powerful anchors for spiritual alchemical transformation.
FAQs
What is spiritual alchemy?
Spiritual alchemy is a journey of transformation that aims to refine the 'lead' of human existence into 'gold' of enlightened consciousness. It pursues the integration of body, mind, and spirit, promoting personal growth and self-awareness.
How can I apply the principles of spiritual alchemy in my daily life?
The principles of spiritual alchemy can be applied through practices such as mindfulness, empathy, embracing change, and striving for balance. Recognizing the interconnectedness of all things and finding beauty in nature are also important aspects of this philosophy.
What practical exercises can I engage in to foster personal growth and transformation?
You can perform daily practices like meditation, yoga, journaling, and visualization. These tools aid in self-reflection, foster self-awareness, and promote personal growth and transformation.
Conclusion
Spiritual alchemy is like a transformative journey, bringing personal growth and self-awareness. It's deeply rooted in ancient wisdom and symbolism, offering practical tools like meditation, yoga, journaling, and visualization for self-exploration. Reflecting on symbols like the Ouroboros can give deep insights into life's cyclical patterns, building resilience in the face of change. Embracing these practices in daily life can lead to that sought-after 'gold' of enlightened consciousness, capturing the essence of spiritual alchemy. Remember, the journey is just as important as the destination – every step is a chance for self-discovery and growth.