Introduction
Spiritual science delves into the intricate intersection of spirituality and scientific understanding, offering a unique perspective on life's profound questions. This article embarks on a comprehensive exploration of this multifaceted discipline, examining its principles, methodologies, and implications in our daily lives. Through the lens of spiritual science, we not only seek to understand the universe's complexities but also our deep-seated connection to it. Join us on this enlightening journey as we uncover the delicate balance between spiritual insight and scientific discovery.
Spiritual Science
Spiritual Science is the study of spiritual phenomena through the lens of scientific principles. It's a field that seeks to reconcile the metaphysical aspects of existence with empirical evidence, aiming to provide a holistic approach to understanding the universe and our place within it.
Historical Roots
Spiritual Science has deep historical roots, tracing back to ancient civilizations that sought answers to life's profound questions. These early societies blended their spiritual beliefs with observations of the natural world, laying the groundwork for what would later evolve into various scientific disciplines.
Modern Perspectives
In modern times, Spiritual Science has taken on new dimensions, influenced by advancements in fields like quantum physics and neuroscience. Interpretations of Spiritual Science now incorporate cutting-edge scientific research, bringing fresh insights into age-old spiritual ideals. This contemporary approach allows us to view spirituality and science not as opposing forces, but as complementary facets of a comprehensive understanding of reality.
The Intersection of Spirituality and Science
The relationship between spirituality and scientific principles is a complex and evolving dialogue. Spirituality often delves into realms beyond the physical, dealing with the unseen, the esoteric, and the transcendent. Scientific principles, on the other hand, focus on observable phenomena, quantifiable data, and empirical evidence. Despite their apparent differences, both aim to understand the nature of existence and the universe.
Spirituality tends to offer a perspective of unity and interconnectedness, emphasizing the integral relationship between all forms of life. Meanwhile, scientific principles, particularly in fields such as ecology and physics, often echo these notions, pointing to the intricate interdependencies within ecosystems or the interconnection of particles at a quantum level.
Instances of Collaboration and Conflict
Instances of collaboration between spirituality and science are increasingly being documented, especially in fields like psychology and medicine. For instance, mindfulness and meditation—spiritual practices rooted in Buddhism—have now been scientifically validated for their benefits on mental and physical health.
However, conflicts arise when spirituality makes claims that contradict scientific findings, or when science endeavors to dismiss spiritual experiences as mere illusions or psychological phenomena. For instance, spiritual beliefs in miracles or supernatural interventions often conflict with scientific understandings of natural laws.
Core Principles of Spiritual Science
Spiritual Science operates on a set of core principles that merge spiritual beliefs and scientific understanding.
Holistic Understanding
One of the fundamental principles of Spiritual Science is the belief in a holistic understanding of the universe. This principle suggests that everything in the universe, both seen and unseen, is interconnected and that understanding any aspect of it necessitates an understanding of the whole.
Coexistence of the Seen and Unseen
Spiritual Science acknowledges the coexistence of the material (seen) and the spiritual (unseen) realms. While science engages with the physical world, Spiritual Science argues for the existence of other dimensions that are beyond the direct perception of our physical senses but can be experienced in other ways.
Continual Evolution
Spiritual Science also holds the principle that the universe and everything within it is in a state of continual evolution. This includes spiritual evolution, which is seen as a process of growth and development that extends beyond physical life.
Harmony of Science and Spirituality
Lastly, and perhaps most significantly, Spiritual Science maintains that science and spirituality are not mutually exclusive but can coexist in harmony. It suggests that these two realms of understanding are different facets of the same reality, and a comprehensive understanding of existence can only be achieved when they are explored together.
The Role of Consciousness in Spiritual Science
Consciousness plays a pivotal role in the realm of Spiritual Science. It is seen as the connecting thread that binds the seen and unseen aspects of the universe, enabling individuals to perceive and interpret spiritual phenomena beyond the physical realm. Through the cultivation of heightened consciousness, individuals can transcend the limitations of physical senses, opening up pathways to deeper spiritual experiences.
Spiritual Science posits that consciousness is not merely a by-product of physical processes, but an inherent aspect of the universe that is integral to understanding its true nature. From a more practical perspective, exploring consciousness can lead to personal growth and transformation, fostering a sense of connectedness and unity with the universe. Through this lens, Spiritual Science promotes the harmonious integration of the physical and spiritual dimensions of existence.
Applications in Healing and Well-being
Spiritual Science has found notable applications in the realm of health and well-being. These applications primarily manifest through holistic approaches to health and the growing field of integrative medicine.
Holistic Approaches to Health
Holistic health approaches emphasize the interconnectedness of the mind, body, and spirit, aligning with the principles of Spiritual Science. These approaches do not focus solely on treating symptoms of disease but aim to address its root causes and promote overall well-being. Techniques used may include meditation, mindfulness, energy healing, and the use of natural remedies. These practices recognize the profound impact of mental and emotional health on physical health and advocate for a balanced lifestyle that nourishes all aspects of the individual.
Integrative Medicine and Spiritual Science
Integrative medicine is a field that harmonizes conventional medical practices with complementary therapies, many of which have roots in spiritual traditions. Spiritual Science informs this field by contributing an understanding of the unseen factors influencing health. Practices such as yoga, acupuncture, and Reiki, grounded in spiritual principles but increasingly recognized for their health benefits, are common in integrative medicine. These therapies work with conventional medical treatments to enhance healing, alleviate stress, and improve quality of life.
Spirituality and Personal Development
Spiritual practices can have a profound impact on personal growth. Engaging in activities such as meditation and mindfulness can lead to increased self-awareness and self-understanding. These practices allow individuals to explore their inner experiences in a non-judgmental and compassionate manner, fostering qualities such as empathy, patience, and acceptance. Over time, this can foster improved mental health, heighten emotional intelligence, and promote a sense of inner peace.
Tools for Self-Discovery and Transformation
Various tools can serve as catalysts for self-discovery and transformation. For instance, practices like yoga and Tai Chi, in addition to their physical benefits, can also foster a sense of balance and harmony within oneself. Similarly, journaling can serve as a powerful tool for introspection, enabling individuals to articulate their thoughts and emotions. Moreover, the use of mindfulness apps and online courses can provide structured guidance for individuals on their growth journey. These tools and practices, when utilized consistently, can significantly contribute towards personal development, ultimately supporting the goal of leading a more fulfilled and meaningful life.
Spiritual Science Into Daily Life
Practical Tips for Beginners
Integrating Spiritual Science into your daily life doesn't have to be complicated. Here are a few practical tips to get started:
Daily Meditation: Begin your day with a few minutes of meditation. It helps to clear your mind and sets a positive tone for the day. You can start with just five minutes each day and gradually increase the duration.
Mindfulness Practice: Try to be fully present in each moment, whether you're eating, working, or simply relaxing. Mindfulness cultivates a heightened awareness of your surroundings and your inner self.
Journaling: Make it a habit to write down your thoughts and feelings regularly. This practice can help you understand your emotions better and foster introspection.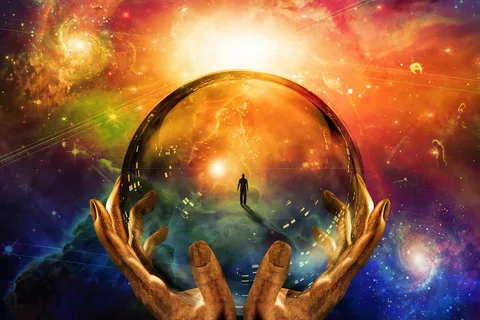 Energy Healing Practices: Engage in energy healing practices like Reiki or Qigong. These practices can often be learned through local workshops or online courses.
Physical Wellness: Adopt holistic health practices such as yoga or Tai Chi. These not only promote physical well-being but also help to balance your energy.
Personal Development Courses: Consider taking personal development courses that align with spiritual science principles. These may cover topics like consciousness, meditation, or holistic health.
Remember, the journey to integrating Spiritual Science into your life is personal and unique for everyone, so feel free to adapt these suggestions in a way that suits you best. The ultimate goal is to achieve a harmonious balance between the physical and the spiritual, fostering a deeper connection with the universe around us.
FAQs
What is spiritual science?
Spiritual Science is a field of study that explores the spiritual dimensions of existence. It posits that consciousness is not merely a by-product of physical processes, but an inherent aspect of the universe integral to understanding its true nature.
How does spiritual science apply to health and well-being?
Spiritual Science influences holistic approaches to health, emphasizing the interconnectedness of mind, body, and spirit. It also informs integrative medicine, aligning conventional medical practices with complementary therapies that recognize unseen factors influencing health.
Can spiritual science contribute to personal growth?
Yes, spiritual practices, such as meditation and mindfulness, as recommended by Spiritual Science, can foster personal development. They can increase self-awareness and self-understanding, thus improving mental health and emotional intelligence.
Conclusion
In the exploration of Spiritual Science, we've journeyed through its profound influence on health, well-being, and personal development. This field of study, transcending the physical, allows us to delve deeper into the unseen dimensions of existence, fostering a holistic understanding of ourselves and the universe we inhabit. Through the integration of spiritual practices into our daily lives, we can unlock a wealth of potential benefits – from enhanced physical health to greater emotional resilience and personal growth. As we move forward in our understanding and application of Spiritual Science, we do so with a deeper sense of connectedness and balance, paving the way for a more holistic and enriched approach to life.