Introduction
This article will delve into the intersection of spirituality and personal growth, exploring how life's trials and tribulations can serve as catalysts for spiritual transformation. We will investigate a variety of spiritual teachings, drawing from diverse traditions, and examine how they suggest we can convert challenges into opportunities for self-discovery and advancement. Expect discussions about the concept of resilience, the power of mindfulness, and the role of self-compassion in overcoming adversity. Moreover, we will explore practical strategies for applying these teachings in daily life, helping you to evolve spiritually while navigating the ebb and flow of the human experience.
Spiritual Teachings
Spiritual teachings can be described as the principles, philosophies, and practices rooted in various religious, philosophical, and cultural traditions that guide individuals toward achieving spiritual growth and enlightenment. They often encompass moral guidelines, contemplative practices, and teachings on the nature of reality, self, and existential purpose. These teachings serve as roadmaps, helping individuals navigate their spiritual journeys, and fostering a deeper understanding of oneself and one's place in the cosmos.
Importance of Spiritual Teachings
Incorporating spiritual teachings into one's life carries profound significance. They provide a framework for understanding life's complexities, offering guidance and stability during turbulent times. Spiritual teachings can cultivate resilience, foster compassion, and encourage mindfulness, thereby enhancing emotional well-being. They help us view challenges as opportunities for growth and deepen our connection with others and the world around us. Furthermore, they can instill a sense of purpose and meaning into our lives, thus leading to greater overall satisfaction and contentment.
The Foundation of Spiritual Teachings
Historical Perspective
Tracing the roots of spiritual teachings, we find a wealth of wisdom deeply ingrained in various cultures and belief systems around the world. From the Vedic teachings of ancient India, and the Abrahamic religions of the Middle East, to indigenous spiritual practices, each tradition offers unique insights into the nature of the self, reality, and the divine.
Core Principles
Despite the diversity of spiritual teachings, certain fundamental principles resonate across different traditions. These include concepts of compassion, selflessness, mindfulness, and the pursuit of truth. These values serve as the foundation for spiritual growth and enlightenment.
Key Figures and Philosophies
Throughout history, numerous spiritual leaders have shaped and transformed spiritual teachings. Figures such as Buddha, Jesus Christ, Prophet Muhammad, and many others, have left an indelible mark, each contributing unique philosophies that continue to guide billions towards spiritual growth and understanding.
Life's Challenges
Life's challenges come in various forms, ranging from personal obstacles such as health issues, relationship difficulties, or financial struggles, to societal hurdles like discrimination, injustice, or poverty. Each experiences a unique set of trials, shaped by their environment, circumstances, and personal history.
The Role of Mindset
Our mindset significantly influences how we perceive and manage life's challenges. A 'growth' mindset, as coined by psychologist Carol Dweck, encourages seeing obstacles as opportunities to learn and grow, rather than definitive roadblocks. Adopting this perspective can empower individuals to tackle hurdles with resilience and fortitude, transforming life's trials into stepping stones toward personal evolution and enlightenment.
Spiritual Tools for Transformation
Exploring the practices and tools that can help individuals navigate challenges, it becomes clear that spirituality offers a rich repository of resources. From meditation, prayer, and mindfulness practices, to the cultivation of virtues such as gratitude, forgiveness, and compassion, these spiritual tools can provide invaluable support in navigating life's ups and downs. They promote resilience, facilitate emotional healing, and foster a deep sense of inner peace.
In essence, these practices and principles serve not only to help individuals weather life's storms but also to catalyze profound personal transformation and growth. Meditation, for instance, encourages introspection and self-awareness, providing a platform for individuals to observe their thought patterns and emotional responses, and ultimately cultivate healthier, more constructive ways of being. Similarly, the practice of mindfulness teaches individuals to stay present and engage fully with the current moment, thereby reducing anxiety and fostering a sense of peace and contentment.
Practical Steps to Implement Spiritual Teachings
Begin with self-reflection: Spend some time each day in solitude, contemplating your thoughts, emotions, and actions. This quiet introspection is often the first step in recognizing where changes need to be made.
Practice mindfulness: Be present in your daily tasks and interactions. Savor the taste of your food, listen actively to the people around you, and engage fully with your work. This conscious presence can transform mundane tasks into spiritual practices.
Cultivate gratitude: Make it a habit to express gratitude daily. This can be as simple as keeping a gratitude journal or thanking someone for their kindness. This small act can have a profound impact on your outlook.
Practice forgiveness: Harboring resentment or anger only harms you. Learn to let go and forgive, even if it's difficult. This doesn't mean forgetting, but rather choosing peace over pain.
Mindfulness in Action
Body scan: This technique involves paying close attention to different parts of your body, from your toes to your head, and observing any sensations you feel. This practice fosters body awareness and presence.
Mindful eating: Instead of eating while distracted, try to focus fully on the experience of eating. Notice the taste, texture, and aroma of your food. This not only enhances your enjoyment of food but also helps prevent overeating and improves digestion.
Mindful walking: Walk slowly and deliberately, paying attention to the sensation of your feet touching the ground, the rhythm of your breath, and the sights and sounds around you. This can turn a simple walk into a profound mindfulness exercise.
Daily Gratitude Practice
Establishing a daily gratitude routine can profoundly impact your emotional well-being, fostering a positive outlook and a deeper appreciation for life's everyday blessings. Begin by setting aside a few moments each day – ideally in the morning or before bed – to reflect on what you are grateful for. Write down your thoughts in a gratitude journal. The entries don't have to be grandiose; even simple pleasures or mundane events that bring you joy can be powerful reminders of abundance. Over time, this practice can help shift your focus from what's lacking in your life to the abundance that's already present, cultivating a sense of contentment and peace.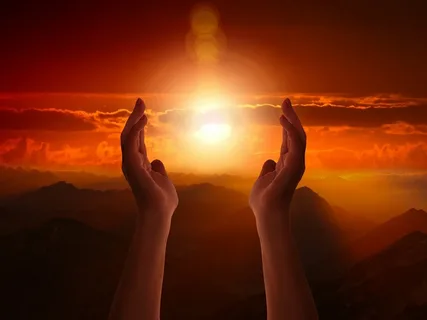 Building Resilience
Building emotional resilience is all about developing the ability to bounce back from adversity and cope effectively with stress. First and foremost, it's crucial to maintain strong support networks – lean on trusted friends, family, or mental health professionals during tough times. Regular exercise, adequate sleep, and a healthy diet can also significantly influence your capacity to manage stress. Take time for activities you enjoy to recharge your energy and uplift your mood. Embrace the mindset of a learner, viewing challenges as opportunities for growth rather than as insurmountable obstacles.
FAQs
What does it mean to turn life's challenges into growth?
This entails perceiving each difficulty or challenge as a chance for personal and spiritual development. Rather than regard setbacks as insurmountable, embrace them as stepping stones towards self-improvement and enlightenment.
How do spiritual teachings help in building resilience?
Spiritual teachings frequently espouse the concept of interconnectedness and the impermanent nature of life's hardships. They inspire a change in outlook, empowering individuals to perceive challenges as fleeting and life-altering rather than overwhelming.
How does a daily gratitude practice contribute to personal growth?
Practicing gratitude daily has the power to transform your perspective, fostering positivity and abundance. Directing our attention to the blessings in our lives nurtures a sense of contentment and appreciation, ultimately leading to a happier and more fulfilled existence.
Conclusion
Spiritual teachings play a crucial role in transforming life's challenges into stepping stones for personal growth. By fostering a dynamic shift in perspective, they encourage us to perceive difficulties not as obstacles, but as opportunities for self-improvement and enlightenment. The practice of daily gratitude, along with the utilization of support networks, facilitates an empowering transformation in our approach to adversity. Thus, spirituality, rather than being an abstract concept, serves as a pragmatic tool in enhancing resilience and nurturing personal growth.