Introduction
Visionary goals represent the cornerstone of any successful endeavor, be it personal or professional. These lofty ambitions serve as the guiding light, leading individuals and organizations toward their desired future. A visionary goal is not merely a target to aim for, but a beacon that illuminates the path to growth, innovation, and transformation. This article seeks to explore the concept of visionary goals in depth, delving into their nature, formulation, and impact. We will journey through the intricacies of setting and pursuing such goals, offering insights to empower you in building your own desired future.
Visionary Goals
Visionary goals, often termed "big picture" goals, are a form of strategic planning that serves as the foundation for future development and growth. These are aspirational goals that extend beyond immediate objectives and delve into the realm of long-term ambitions. Visionary goals encompass the broader perspective of an individual or organization, encapsulating their overarching vision for the future. They are designed to be far-reaching and transformative, pushing boundaries and encouraging the pursuit of excellence.
Importance of Setting Visionary Goals
Setting visionary goals is of paramount importance as they provide a clear sense of direction and purpose. These goals aren't just about achieving a specific target, but about transforming the status quo. They inspire individuals and organizations to strive for constant improvement and innovation. Moreover, visionary goals act as a motivational force, fostering a culture of resilience and determination. These aspirational goals compel us to step out of our comfort zones, challenge our limitations, and reach for the stars. They form the bedrock of long-term success and sustainability, driving continuous growth and progress.
Identifying Your Visionary Goals
Defining your visionary goals is a crucial step in any strategic planning process. This involves identifying your aspirations for the future and refining them to form your "big picture" goals.
Self-Reflection
The identification of visionary goals begins with self-reflection. It requires an understanding of your passions, ambitions, and core values. This introspective process allows you to align your future goals with your intrinsic motivations and personal beliefs, thereby ensuring that your aspirations resonate with who you are as an individual or an organization.
Goal Setting Techniques for Visionary Goals
There are various techniques for setting visionary goals. One effective method is the SMART criteria which entail making your goals Specific, Measurable, Achievable, Relevant, and Time-Bound. Other techniques involve visualizing your desired future, creating a vision board, and writing down your goals in clear, detailed terms.
Balancing Ambition and Realism in Goal Setting
While ambition is a driving force behind visionary goals, realism is equally important. Striking a balance between the two ensures that your goals are not only aspirational but also achievable. It's about setting goals that stretch your capabilities without pushing you beyond your limits. This delicate balance enables you to strive for excellence while maintaining a realistic approach to your long-term ambitions.
Visionary Leadership
Applying visionary thinking isn't restricted to personal growth and internal organization strategies; it also plays a critical role in leadership. Visionary leadership refers to leaders who inspire their teams with a shared vision for the future.
Characteristics of Visionary Leaders
Visionary leaders possess a set of unique traits that set them apart. They have the innate ability to visualize an ideal future and articulate this vision in a way that resonates with their team. They are forward-thinking, innovative, and unafraid to challenge the status quo. Moreover, they exhibit a strong commitment to their vision, demonstrating persistence and resilience in the face of obstacles.
Impact of Visionary Leadership on Organizations
Visionary leadership has a profound impact on teams and organizations. By setting a clear, compelling vision, leaders can inspire their team to strive towards a common goal. This increases motivation and engagement and fosters a sense of unity and cooperation. At an organizational level, visionary leadership drives innovation and growth, steering the organization toward a prosperous future.
Developing Visionary Leadership Skills
Developing visionary leadership skills involves nurturing certain qualities. Among these are the ability to think strategically, an understanding of the bigger picture, and the capacity to inspire and motivate others. Developing these skills involves constant learning, self-reflection, and the willingness to take risks. Regular feedback and self-evaluation can also help in refining these skills and becoming an effective visionary leader.
Collaborative Visionary Goals
Collaborative visionary goals represent the interweaving of individual aspirations and collective ambitions. These shared goals not only foster teamwork and synergistic efforts but also enhance the potential for achieving transformative results.
Importance of Collaboration in Visionary Goal Achievement
Collaboration plays an integral role in the achievement of visionary goals. The pooling of diverse skills, perspectives, and experiences often leads to innovative strategies and solutions that can propel an organization toward its lofty ambitions. Collaboration fosters a shared sense of purpose and responsibility, thereby increasing commitment and motivation. It allows the burden of challenging tasks to be distributed among team members, making seemingly insurmountable goals more attainable.
Building and Nurturing Collaborative Relationships
The foundation of successful collaborative visionary goals lies in building and nurturing effective collaborative relationships. These relationships are built on mutual respect, trust, and understanding. Clear communication is essential in establishing a common vision and aligning individual efforts toward shared goals. Active listening and open-mindedness foster an environment that values diversity of thought and encourages innovative ideas.
Overcoming Challenges in Pursuit of Visionary Goals
The pursuit of visionary goals, while rewarding, is often fraught with challenges and setbacks. However, the ability to navigate these obstacles and maintain resilience in the face of adversity is what ultimately determines success.
Common Challenges Faced in Achieving Visionary Goals
Numerous obstacles can hinder the achievement of visionary goals, including lack of resources, resistance to change, and fear of failure. Moreover, in the face of ambitious and long-term objectives, maintaining motivation and perseverance can prove challenging.
Strategies for Overcoming Setbacks and Failures
Setbacks and failures, while daunting, can be invaluable learning opportunities. Strategies for overcoming these include adopting a growth mindset, which views challenges as opportunities for learning and improvement. Regular self-reflection can also help identify areas for development and fine-tune strategies for success. It's vital to remember that every failure brings you one step closer to success, and persevering despite setbacks is key to achieving your visionary goals.
Building Resilience and Persistence
Resilience and persistence are crucial attributes in the pursuit of visionary goals. Building resilience involves fostering a positive mindset, maintaining a strong support network, and learning to manage stress effectively. Persistence, on the other hand, can be cultivated by setting smaller, achievable goals that lead up to the larger visionary goal, thereby creating a sense of progress and motivation. It's also essential to celebrate small victories along the way, as this can bolster self-confidence and reinforce the determination to achieve your visionary goals.
Measuring Success in Visionary Goal Achievement
Measuring success in visionary goal achievement goes beyond merely ticking off accomplished tasks. It requires a multifaceted approach that considers both quantifiable progress and qualitative growth. From a quantitative perspective, tracking progress against defined milestones and objectives provides clear indicators of how closely the actual outcomes align with the envisioned goals. Key performance indicators (KPIs) can be used as measurable values to demonstrate how effectively the organization or individual is achieving their key objectives.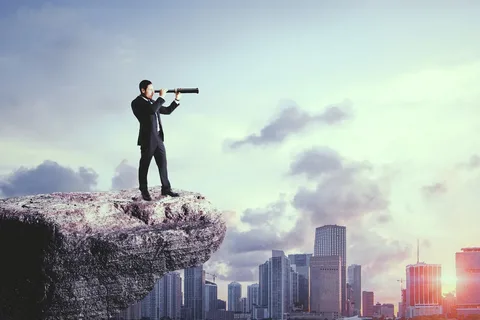 On the qualitative side, success is also gauged by the personal and professional growth experienced during the journey towards the vision. The skills developed, the resilience built, the lessons learned, and the relationships forged often hold as much weight as the result. Moreover, the level of engagement, satisfaction, and motivation among team members is also a crucial measure of success, as it reflects the impact of the visionary journey on the team's morale and cohesion.
Finally, success can also be measured by the extent to which the vision has been internalized and embodied by the team or organization. When the vision permeates the actions and decisions at all levels, it reflects a successful integration of the visionary goals within the organization's culture and operations. It's important to remember that the journey towards visionary goals is a continuous process of growth and improvement, and success should be seen as a progressive realization of the vision.
FAQs
What are visionary goals?
Visionary goals are ambitious, long-term objectives that guide an individual or organization's efforts and decisions. They embody the desired future state and act as a beacon, inspiring and directing progress.
Why are visionary goals important?
Visionary goals inspire and motivate, providing a clear direction for an individual or organization's journey. They stimulate strategic planning, shape the culture, and foster innovation and growth.
How can collaboration aid in achieving visionary goals?
Collaboration brings together diverse skills, experiences, and perspectives that can lead to innovative strategies and solutions. It fosters a shared sense of purpose and responsibility, making seemingly insurmountable goals more attainable.
Conclusion
Visionary goals are instrumental in building the desired future for individuals and organizations alike. They provide a clear, motivating direction, shaping strategic planning, and fostering a culture of innovation and growth. The path to achieving these ambitious goals is often peppered with challenges, but these can be overcome with resilience, persistence, and a growth mindset. Building and nurturing effective collaborative relationships are crucial, as these bring together diverse perspectives and skills, making daunting objectives more attainable.