Introduction
Dream journaling is a fascinating practice that is not only an exploration of the subconscious but also a technique that could lead to better sleep quality. By keeping a dream journal, we immerse ourselves in the intricacies of our minds, uncovering patterns, themes, and narratives that could help us understand our waking lives better. Furthermore, the act of writing can be a soothing ritual that cultivates mindfulness and relaxation, thus promoting restful sleep. In the following sections, we shall delve deeper into the methods and benefits of dream journaling.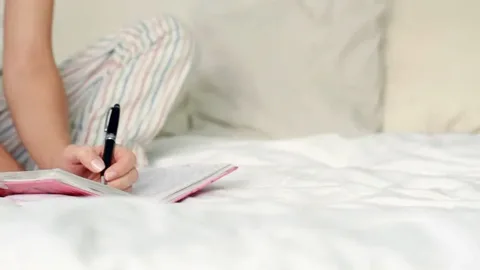 Dream Journaling
Dream journaling is the practice of jotting down your dreams regularly. You can do this right after waking up, in the middle of the night, or even during the day when you recall a dream. Your journal entries can include detailed descriptions of the dream's story, characters, and settings, as well as any emotions or sensations you felt in the dream. You can also add interpretations or thoughts about the dream's meaning. This practice helps you connect with your subconscious mind, providing a cool way to reflect on yourself and grow personally.
Benefits of Dream Journaling for Sleep
Dream journaling offers several benefits for sleep. Firstly, it can enable the recognition of dream patterns that may be linked to daily experiences or emotional states. This self-awareness can lead to improved mental health, which positively impacts sleep quality.
Secondly, the simple act of writing can be a calming activity, which may ease the transition into sleep. It serves as a form of reflection and calming down, creating a relaxed state of mind conducive to falling asleep. Lastly, by jotting down dreams immediately upon waking, this practice encourages wakefulness during the day, reducing the likelihood of feeling groggy or tired. This can lead to a more restful night's sleep the following evening.
The Science Behind Dream Journaling and Sleep
The science behind dream journaling and its impact on sleep revolves around the stages of sleep, particularly the Rapid Eye Movement (REM) stage. REM sleep is a unique phase of sleep in humans and animals, characterized by fast and random movement of the eyes, elevated heart rate and blood pressure, and high-frequency brain waves similar to those observed in wakefulness. This is the stage of sleep when most vivid dreams occur.
Overview of REM Sleep
During REM sleep, the brain is highly active, and its electrical activity can be likened to that of being awake. This sleep stage plays a pivotal role in learning and memory function, as this is the time when the brain consolidates and processes information from the day before so that it can be stored in our long-term memory. REM sleep is interpreted as a period of 'mental cleanup' where the brain categorizes and stores experiences, emotions, and memories.
Role of Dream Journaling in Enhancing REM Sleep
Dream journaling can play a significant role in enhancing REM sleep. As we document our dreams, we become more aware of our dreaming patterns and subconscious thoughts. This increased dream recall can further stimulate brain activity during REM sleep, potentially leading to longer and more intense periods of REM sleep.
As a result, one might experience improved memory consolidation and emotional processing. Moreover, the self-reflection associated with dream journaling can create a calming bedtime routine that promotes a quicker onset of sleep and improved sleep quality. Therefore, the practice of dream journaling can contribute to optimizing the benefits we derive from REM sleep.
Steps to Start a Dream Journal
Starting a dream journal is a simple process that requires consistency and commitment. Here's a step-by-step guide to help you get started:
Setting Up the Dream Journal
Designate the first page of your journal for a title and the date you begin journaling. Each dream entry should start on a new page, with the date of the dream at the top. The page should be divided into sections for the dream description, emotions and sensations, and personal reflections or interpretations.
Best Times to Write
The best time to write in your dream journal is immediately upon waking, while the dream is still fresh in your mind. If you wake up in the middle of the night remembering a dream, jot it down instead of waiting until morning. The more time that passes, the more details you are likely to forget.
What to Include in Your Entries
When writing down your dreams, try to capture as much detail as possible. Describe the setting, the people, the narrative, and any strange or unusual elements. Note any emotions or sensations you experienced, whether during the dream or upon waking. Lastly, include any thoughts or interpretations about what the dream might mean.
Techniques for Effective Dream Journaling
Recalling Dreams
Remembering your dreams is the first step to effective dream journaling. It's essential to write down your dreams as soon as you wake up, as details can quickly fade. If you're struggling to remember, don't worry. Just jot down whatever fragments you recall, and over time, your dream recall will improve. Some techniques can aid dream recall, such as setting the intention before sleep that you want to remember your dreams or using a gentle alarm that doesn't abruptly jolt you out of REM sleep.
Interpreting Dreams
Interpreting your dreams can be a fascinating exercise. Remember, there are no universally applicable dream symbols or meanings — your dreams are unique to you. Look for recurring symbols, characters, or themes. Reflect on how these could be related to your waking life. Sometimes, they might symbolize your feelings, hopes, fears, or desires. At other times, they might be influenced by recent experiences, memories, or unresolved issues.
Using Dream Journaling as a Tool for Sleep Improvement
Dream journaling can be a valuable tool for improving your sleep. As you begin to understand your dreams better, you might uncover underlying anxieties or concerns that are impacting your sleep. Addressing these issues can often lead to better sleep quality. Additionally, the act of writing can be calming, a form of mindful reflection that eases the transition into sleep. Over time, your dream journal can become a cherished bedtime routine that signals to your brain that it's time to wind down and prepare for sleep.
FAQs
How does dream journaling improve sleep quality?
Keeping a dream journal can contribute to enhancing sleep quality through the establishment of a consistent bedtime routine, alleviating bedtime anxiety, and fostering self-awareness. By reflecting on and recording dreams, individuals have the opportunity to gain insights into their subconscious concerns or anxieties that may impact their sleep.
Why is it recommended to write in the dream journal immediately upon waking?
Dreams are elusive and can quickly fade upon awakening. Maintaining a dream journal and recording your dreams immediately upon waking can help capture the finest details with accuracy.
I rarely remember my dreams. Can I still benefit from a dream journal?
Definitely! Making an effort to remember dreams can enhance your ability to recall them. Even jotting down fragments or the emotions experienced during sleep can give you some interesting insights.
Conclusion
Dream journaling is a versatile tool and sleep aid that holds the key to enhanced rest and increased self-awareness. By capturing and delving into our dreams, we embark on a journey through our subconscious thoughts and emotions, unearthing precious insights that pave the way to better sleep. Moreover, the simple act of journaling itself contributes to improved sleep hygiene, gently signaling our brains to wind down and embrace much-needed rest. While dream journaling demands consistency and effort, the potential rewards it offers to our sleep and overall well-being are truly worth the endeavor. Remember, patience and persistence are the secret ingredients to successful dream journaling.