Introduction
The act of journaling is more than just documenting daily events — it's a powerful tool for stress relief. As lives become increasingly busy and demanding, it's easy to feel overwhelmed. While various stress management techniques exist, one of the simplest and most effective methods is journaling. This practice can help declutter the mind, allowing a greater sense of calm and mindfulness. It's about transcribing thoughts and feelings onto paper, providing a private, non-judgmental space where one can process and understand their emotional state. This piece explores the different methods of journaling for stress relief and how they can help foster a more peaceful mind.
Journaling
Journaling, at its core, is the art of capturing thoughts, feelings, and experiences on paper. It's like creating a personal time capsule, a treasure trove of self-discovery and reflection. Imagine journeying through the annals of history, where ancient civilizations chronicled their lives on clay tablets and scrolls. Today, journaling takes on many forms – from private diaries to captivating online blogs. It's a powerful vehicle for self-expression, personal growth, and nurturing mental well-being. With each stroke of the pen, we not only shape our narratives but also unlock glimpses into the tapestry of different eras and cultures.
The Science Behind Journaling for Stress Relief
Scientific studies have demonstrated the stress-relieving benefits of journaling, shedding light on the mechanisms through which it fosters mental well-being. Psychologists believe the act of writing helps to organize thoughts, making them more manageable and less overwhelming.
Furthermore, journaling engages the left hemisphere of the brain, which is analytical and rational. This allows the right hemisphere, which is responsible for creativity and emotions, to freely process and express feelings. This interplay promotes emotional resolution and understanding, leading to reduced stress.
Lastly, as a form of expressive writing, journaling has been linked to improved immune system functioning, indicative of its stress-relieving potential. One study even found that individuals who journaled for 15–20 minutes a day over four months had fewer visits to the doctor and exhibited lower levels of the stress hormone cortisol.
Ten Proven Methods of Journaling for Stress Relief
Gratitude Journaling
This method involves writing about things for which you are grateful. By focusing on positive aspects of life, you shift your mindset away from stress and towards appreciation, fostering a sense of peace and contentment.
Emotional Release Journaling
This technique is all about putting emotions down on paper. It's a safe space to vent, express challenging feelings, and let go of stress, ultimately paving the way for emotional healing.
Bullet Journaling
A structured approach to journaling, bullet journaling involves creating lists, calendars, and trackers. It's an excellent method for those who crave organization and struggle with stress related to time management or productivity.
Dream Journaling
This entails writing down dreams upon waking. It can provide insight into your subconscious, helping to address unresolved issues that contribute to stress.
Art Journaling
Combining creativity with journaling, art journaling involves expressing thoughts and feelings through drawings, paintings, or collages. It's particularly effective for those who find visual expression easier than putting feelings into words.
Morning Pages
This method involves writing three pages of free thought as soon as you wake up. It's a technique that declutters the mind, enabling a fresh and stress-free start to the day.
Five Minute Journaling
Ideal for busy individuals, this method requires only five minutes each day to jot down thoughts and feelings. The brevity encourages consistent practice, promoting mindfulness and stress relief.
Guided Journaling
This approach involves using prompts or structured questions to guide your writing. It's an effective practice for those who find it challenging to start writing about their feelings or experiences.
Reflective Journaling
A method focused on self-analysis, reflective journaling involves writing about your day, your decisions, and the outcomes. It encourages self-improvement and stress reduction by promoting a deeper understanding of oneself.
Free Writing
This form of journaling involves writing continuously without worrying about grammar or structure. It encourages the raw, uncensored flow of thoughts and feelings, helping to unburden the mind and reduce stress.
Start and Maintain a Journaling Habit
Starting and maintaining a journaling habit can seem daunting at first, but with a few key steps, it can become an enriching part of your daily routine.
Choose Your Journaling Tool: Choose the tool that suits you best. This could be a traditional notebook, an online blog, or a digital app. The right tool will make the experience more enjoyable and keep you motivated.
Create a Routine: Consistency is critical in developing a journaling habit. Try to allocate a specific time of day for journaling, whether it's in the morning to start your day on a positive note, or at night as a way to unwind and reflect.
Start Small: You don't have to write pages every day. Begin with just a few lines or bullet points, and gradually increase as you become more comfortable.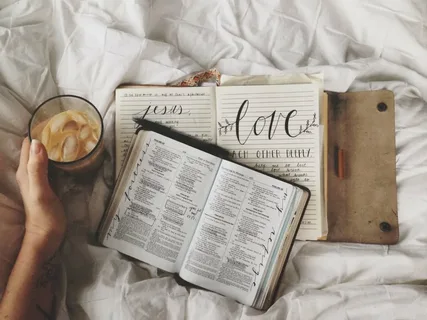 Use Prompts: If you're unsure what to write about, use journaling prompts to kick-start your thoughts. These can be simple questions like 'What was the best part of my day?' or 'What am I grateful for today?'
Write Freely: Don't worry about grammar, punctuation, or sounding prefer Journaling aims to express your thoughts and feelings freely.
Make It Personal: Your journal is a private space. Feel free to decorate it, doodle it, n it, or personalize it in any way that makes it feel more 'you'.
Be Patient: It might take some time to feel the benefits of journaling. Don't be discouraged if it takes a little while. The key is to stick with it and make journaling a regular part of your life.
Remember, the purpose of journaling is to provide a stress-free environment for self-expression and reflection. Like any habit, it takes time and consistency to establish. So be patient with yourself, and most importantly, enjoy the journey of self-discovery that journaling offers.
FAQs
Is there a 'best' time to journal for stress relief?
The optimal time for journaling differs from individual to individual. For some, journaling in the morning sets a positive tone for the day ahead, while others find solace and introspection by journaling at night, reflecting on the experiences of the day.
How long should each journaling session last?
There is no rigid rule in this case – individuals may experience a revitalizing effect in as little as five minutes, whereas others may find longer sessions more preferable. Ultimately, the key lies in discovering the approach that suits you best.
Can journaling help reduce stress?
Numerous studies have consistently demonstrated the stress-reducing benefits of journaling. By providing an outlet to express emotions, organize thoughts, and gain valuable perspective on our experiences, it empowers us to navigate life's challenges with clarity and grace.
Conclusion
Journaling is a potent tool for managing stress, offering a range of methods to cater to individual needs. Whether it's gratitude journaling to foster positivity or emotional release journaling for catharsis, each approach facilitates introspection and emotional clarity. With the freedom to personalize your journaling experience and the flexibility of digital or traditional formats, it's no surprise that this practice has proven to be beneficial for stress relief.