Introduction
In many cultures around the world, the zodiac, a celestial coordinate system, plays an important role in shaping the traits, temperament, and destiny of individuals. The Chinese zodiac, in particular, is a unique system that ascribes a specific animal to each year in a repeating 12-year cycle. One such animal in this cycle is the Pig, symbolizing generosity, kindness, and diligence. This article delves into the fascinating aspects of the Year of the Pig, exploring the various characteristics and traits attributed to those born under this sign, as well as the mythical and cultural significance of the Pig in the Chinese zodiac.
Year of the Pig in the Chinese Zodiac
The Year of the Pig, or Boar, in the Chinese Zodiac, is one of the twelve animal signs associated with this ancient astrological system. It recurs every 12th year in the zodiac cycle. Individuals born in the Year of the Pig are traditionally believed to inherit the animal's attributes of kindness, generosity, and diligence. The Pig years are 1935, 1947, 1959, 1971, 1983, 1995, 2007, 2019, and so on, with each cycle repeating every 12 years. The Pig holds a strong cultural significance in Chinese society, symbolizing wealth, good fortune, and prosperity.
Characteristics of People Born in the Year of the Pig
People born in the Year of the Pig are known for their kind, selfless, and affable nature. They are often seen as generous individuals who enjoy helping others and are likely to be popular in their social circles due to their easygoing and supportive personalities. Their hardworking and diligent attitude, combined with a sense of responsibility, often leads them to achieve their goals.
Positive Traits
Pigs are known for their compassion and generosity. They have a great sense of empathy and are always ready to lend a helping hand. Their honesty and integrity make them trustworthy and reliable friends and partners. They are hardworking and determined, often demonstrating admirable perseverance when faced with difficulties.
Negative Traits
However, their kind nature can sometimes make them naive, leading them to trust others easily and fall prey to deception. They may also struggle with being too self-sacrificing, often putting others' needs before their own to their detriment. Additionally, their love for life's comforts can sometimes lead to materialistic tendencies or lackadaisical behavior.
Generosity as a Key Trait
Generosity is all about being ready to give more, whether it's money or anything else, than what's strictly expected. It's about embodying virtues like charity, kindness, and benevolence. And it's not just about material possessions, but also about being willing to give time, help, and support to others.
In Chinese astrology, those born in the Year of the Pig are known for their incredible generosity. They have a natural inclination to help others and freely share their resources. Their selfless and open-hearted nature shines through their actions, showing deep empathy and understanding towards those around them.
The association of pigs with generosity in Chinese astrology goes back to ancient beliefs and cultural symbolism. Pigs are often seen as symbols of wealth, good fortune, and prosperity – all closely tied to the ability to give generously. That's why people born in the Year of the Pig are considered to be some of the most generous individuals, embodying these qualities in their lives.
The Impact of Generosity
Generosity is a powerful force that has far-reaching effects on our relationships, communities, and society as a whole.
Personal Growth Through Generosity
At an individual level, practicing generosity is an avenue for personal growth. It fosters a sense of fulfillment and happiness and has been linked with improved well-being and life satisfaction. Regular acts of kindness and generosity can also reduce stress, bolster self-esteem, and promote a sense of purpose. Being generous encourages personal development by fostering virtues like empathy and compassion, enriching our understanding of others' experiences and perspectives.
Better Social Connections from Generosity
Generosity also plays an essential role in building strong social connections. By giving to others, we contribute to a sense of community, foster mutual trust and cooperation, and strengthen our social ties. Generous individuals often enjoy improved relationships, as their actions nurture goodwill and inspire reciprocal generosity.
Generosity and Its Impact on Society
At a societal level, generosity has the power to drive positive change. Generous actions can stimulate societal improvements by addressing inequalities and alleviating hardships for those less fortunate. Communities marked by a culture of generosity often exhibit increased resilience, unity, and social harmony.
Promoting Kindness in Daily Life
Taking inspiration from the Year of the Pig, which symbolizes generosity and prosperity, we can all bring kindness into our daily lives in different ways. Not only does this enrich our own lives, but it also creates a positive impact on those around us. Here are a few simple yet powerful ways to incorporate kindness:
Use Kind Words
Boost others' morale and create a positive environment by giving compliments and showing appreciation. Let's try to have encouraging and understanding conversations.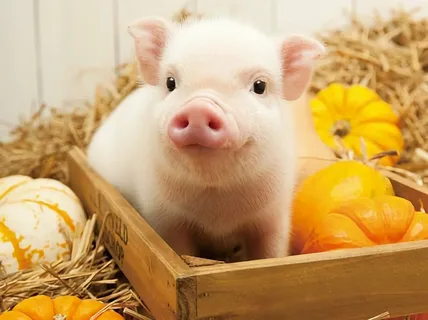 Practice Empathy
Before passing judgments, try to understand and share the feelings of others. This helps us become more sensitive to their needs and experiences, inspiring kind actions.
Perform Acts of Service
Small acts of kindness can go a long way. Whether it's helping colleagues at work, assisting neighbors, or participating in community service, let's generously offer our time and resources to help others.
Spread Positivity
Kindness and positivity go hand in hand. Share positive news, uplifting stories, and words of motivation to effectively spread kindness. Let the Year of the Pig's positivity inspire us to bring joy and optimism into our daily lives.
FAQs
Why is the year of the pig associated with generosity and kindness?
The Pig holds the twelfth position among all zodiac animals in Chinese astrology. According to myths and legends, it is regarded as a symbol of generosity, sincerity, and prosperity. This is attributed to its nurturing nature and its habits of eating and sleeping, which symbolize wealth and abundance in life.
How can I incorporate the traits of the pig zodiac in my daily life?
Demonstrating generosity and kindness does not necessarily demand grand gestures. Simple acts such as using kind words, practicing empathy, engaging in acts of service, and fostering positivity can exemplify the characteristics associated with the Pig Zodiac in our day-to-day existence.
How is the pig zodiac believed to influence the year in chinese astrology?
In Chinese astrology, every year linked to a specific zodiac animal is accompanied by predicted trends and events. The Year of the Pig is widely regarded as a period of prosperity and favorable circumstances, often resulting in financial abundance and good luck.
Conclusion
The Year of the Pig, in Chinese astrology, is all about being generous, kind, and prosperous. It tells us to embrace these qualities in our daily lives. Small acts of kindness, spreading positivity, and having a generous spirit can have a big impact, bringing warmth and goodwill to ourselves and others. As we go through life, let's keep the Pig Zodiac in mind as a guide for our actions and attitudes, and work towards making the world more prosperous, kind, and generous.